I will always fully admit to having a serious addiction to caffeine.
So when I tried my first Iced Vietnamese Coffee at my fav vegetarian restaurant The Coup.. it was definitely an epiphany!
With our incredibly hot autumn weather holding out, I knew I had to learn to make this at home.
A quick stop at T&T Supermarket and I had the coffee press and the ingredients needed for my next great kitchen experiment.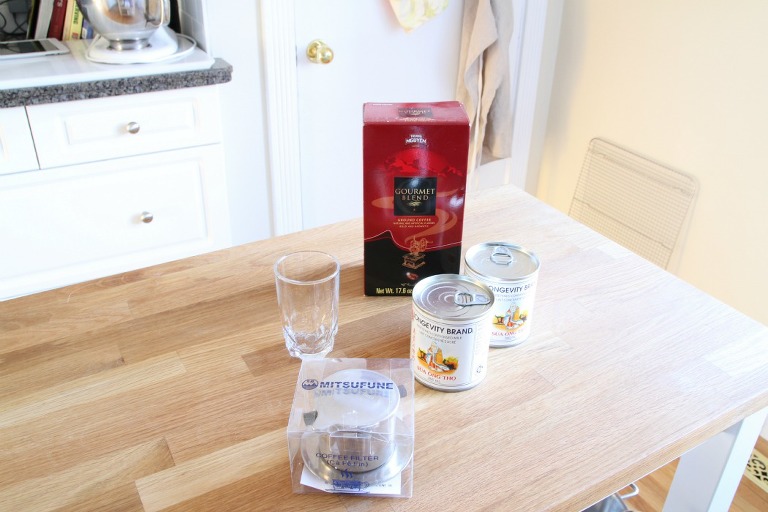 You need one of these Vietnamese Coffee Presses. They're less than $5, much cheaper than any coffee machine!
The tiny screw inside determines the flow of your coffee. You'll want it to drip only a few drops of coffee per second, it should take about 5 minutes for all of your coffee to run through. I experimented a bit and found I had to turn the screw in my press until it was completely tightened in order to get a slow drip rate.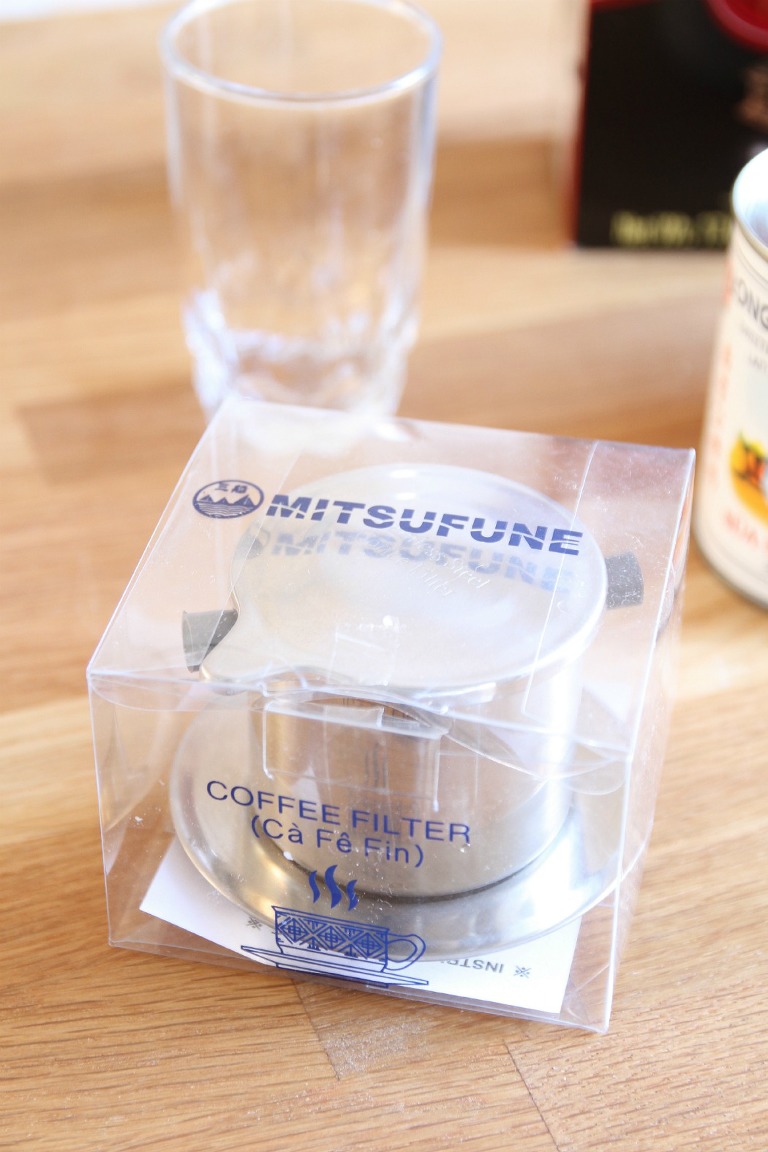 Then you need a tin of sweetened condensed milk, Eagle Brand would do but I wanted to be as "authentic" as possible so picked up a tin of Longevity Brand.. it looks like this: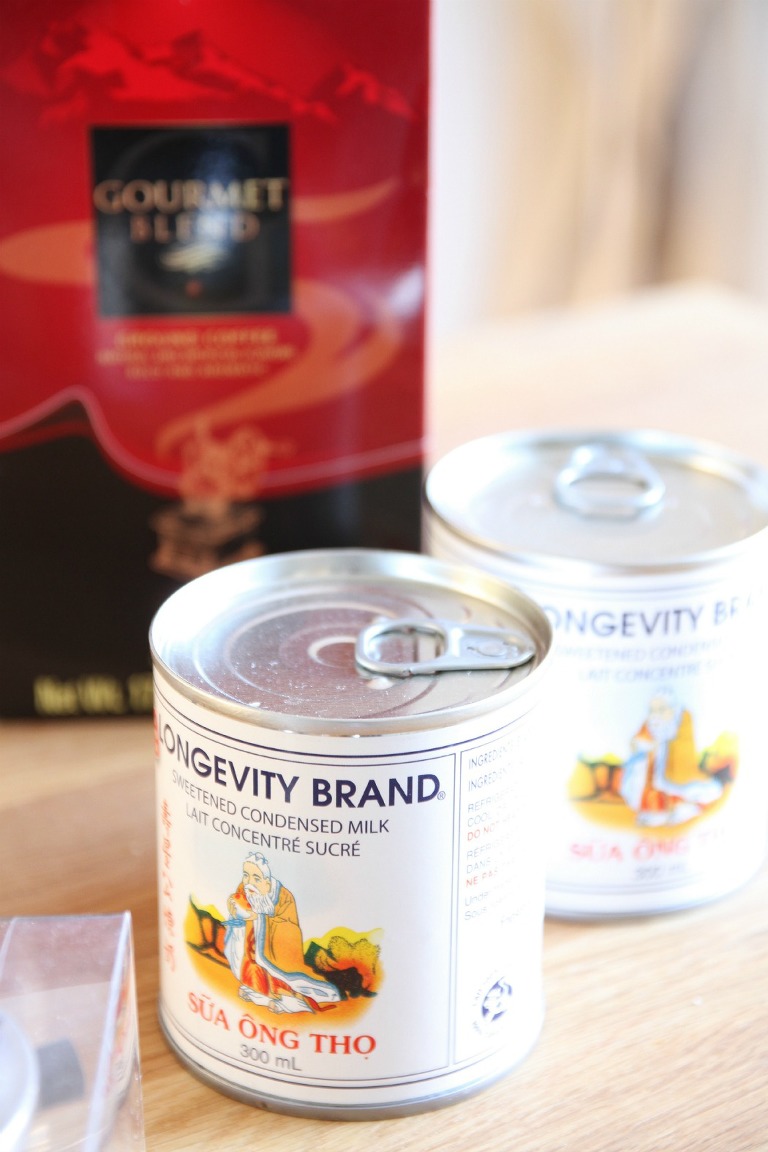 The ultimate coffee of choice is Cafe du Monde French Roast Chicory but I couldn't find a tin of it that day (I did see it on a subsequent trip). I went with the next best choice, Trung Nguyen Gourmet Blend.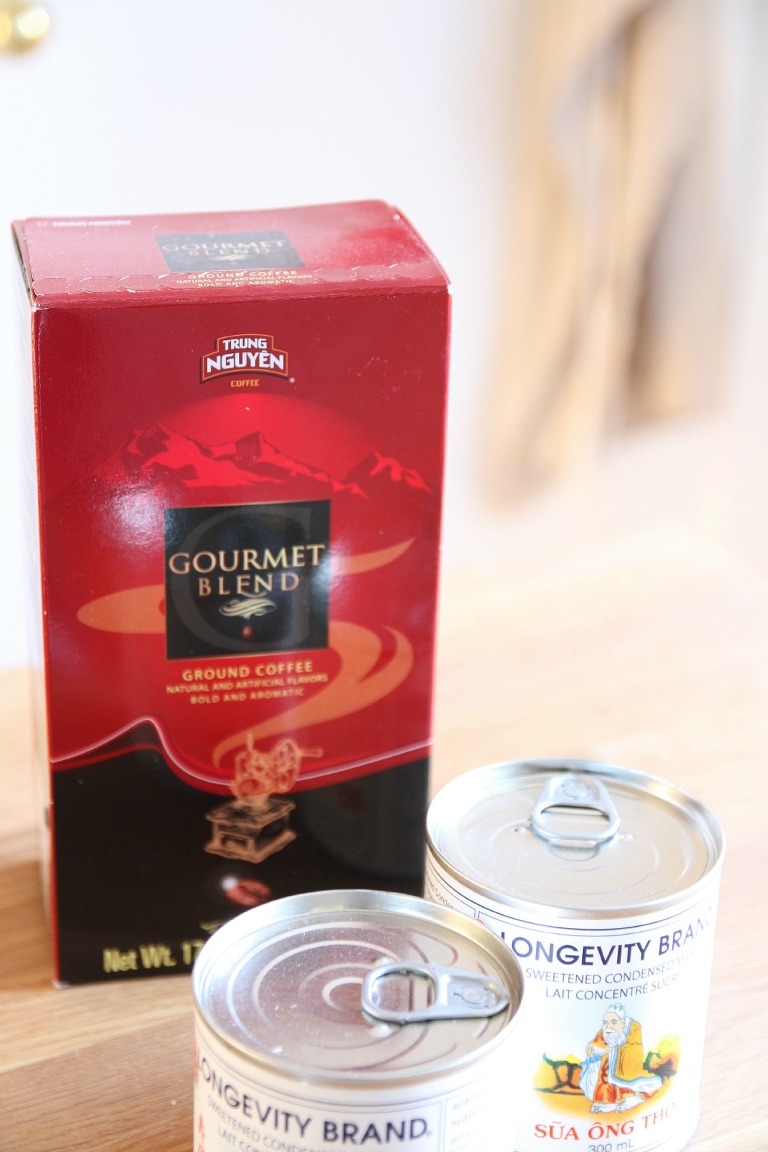 Measure two tablespoons of the condensed milk into a small glass.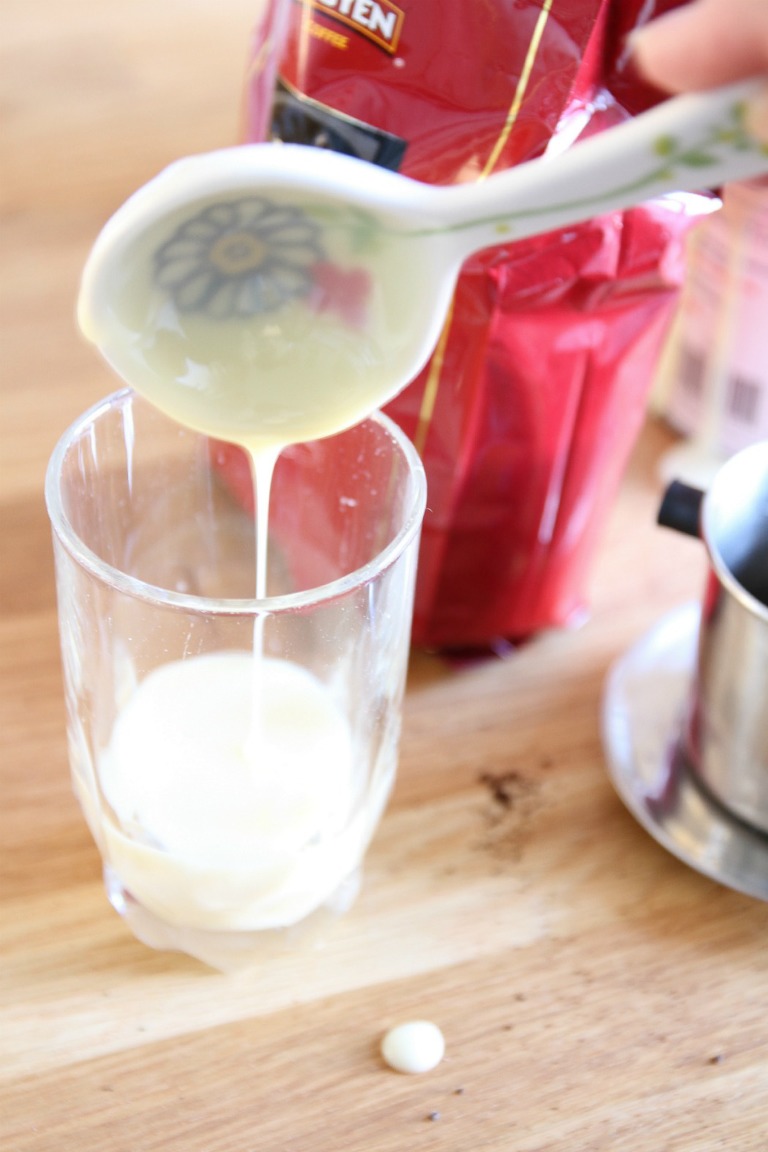 Then add two level tablespoons of coffee grounds into your coffee press. Then pour a wee bit of hot water over and press/pack the coffee firmly down using your fingers, otherwise the hot water will run straight through and you won't get that "slow drip" you need.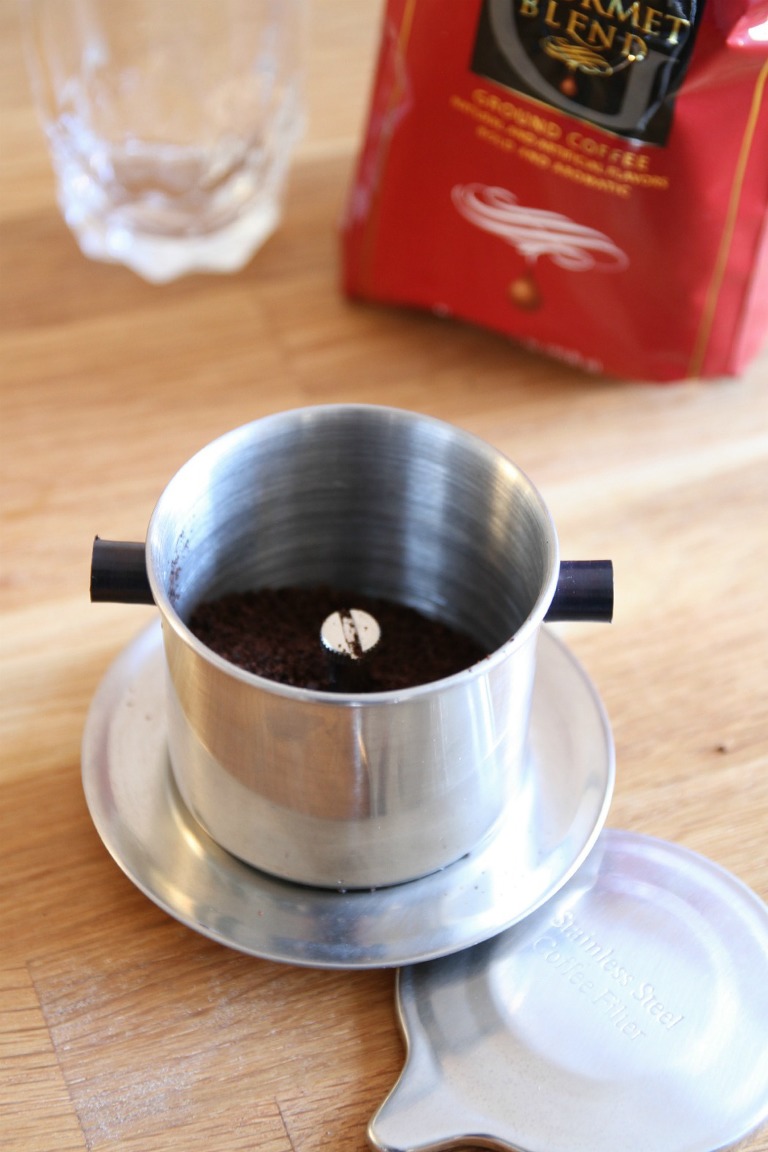 Set the coffee press over the glass of condensed milk.
Then slowly pour to fill with boiling water and put the lid on. Adjust the screw tighter if the water is moving too fast, looser if it isn't dripping through. As mentioned above, I had to tighten mine to the max.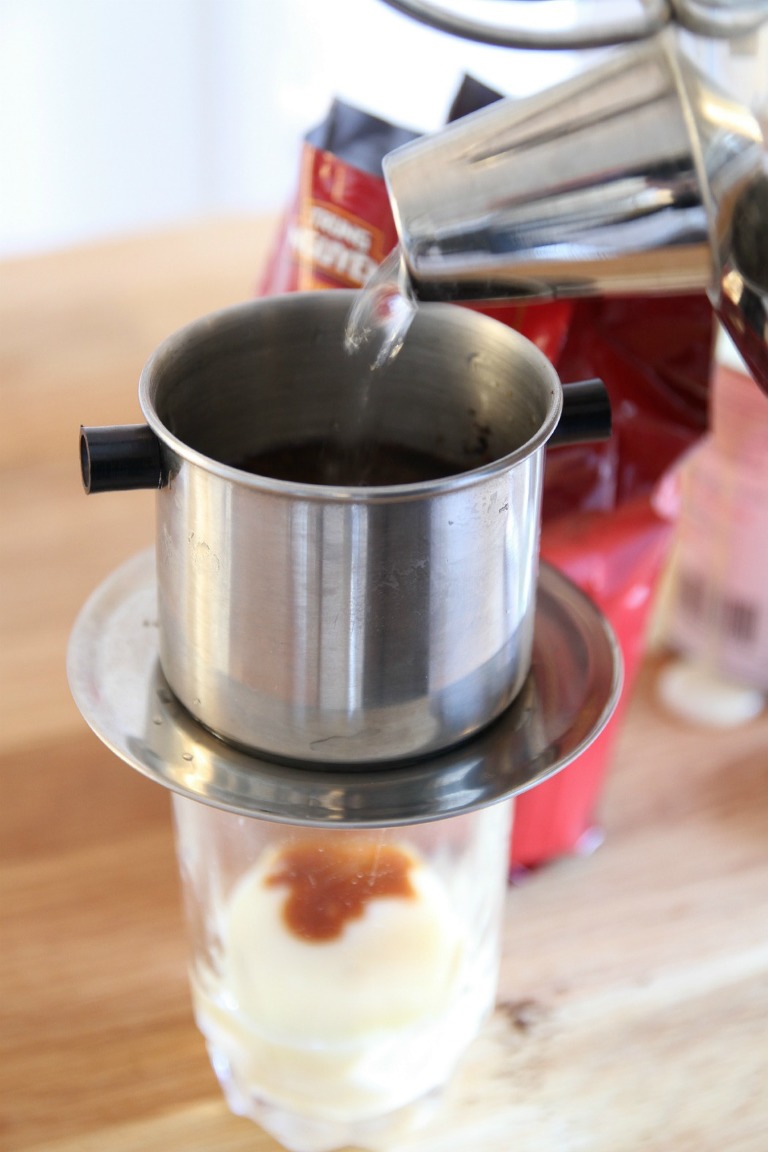 While the coffee is dripping, it should take about 5 minutes, fill a glass with ice. Once the coffee has finished dripping, remove the coffee press to your sink and pour the mixture of coffee and condensed milk over your glass of ice.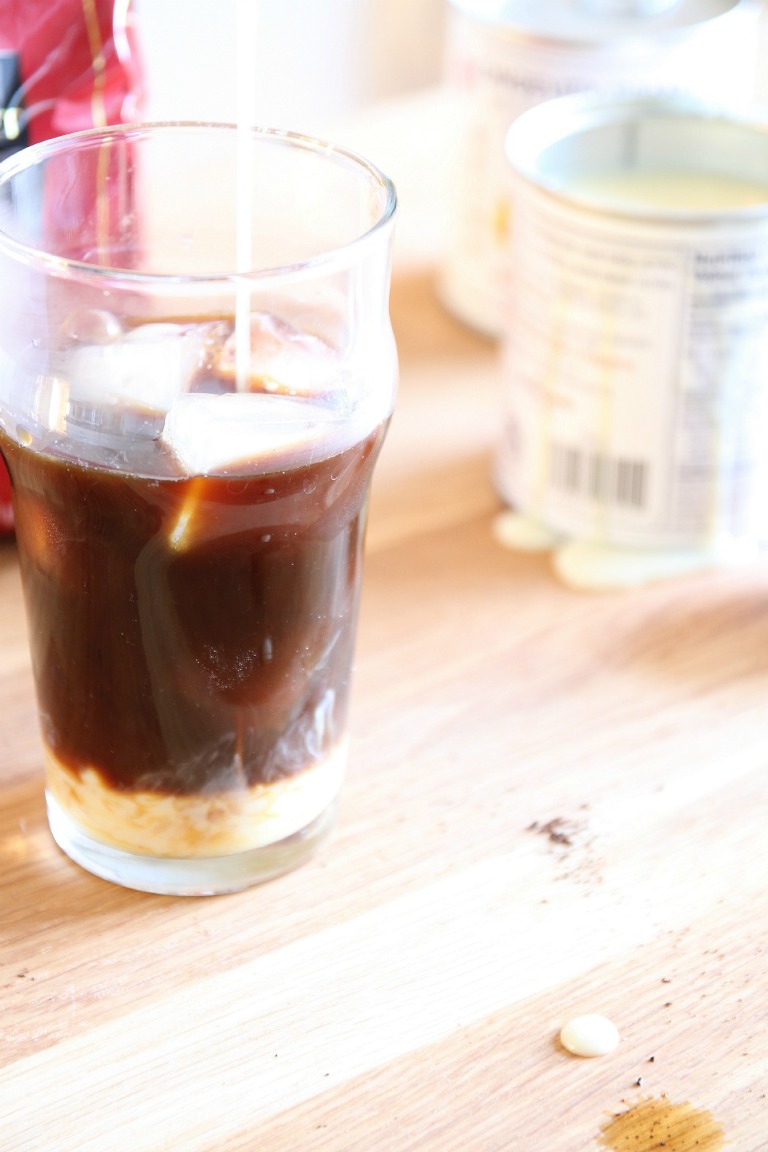 Top up with a little more ice if you wish and stir to combine.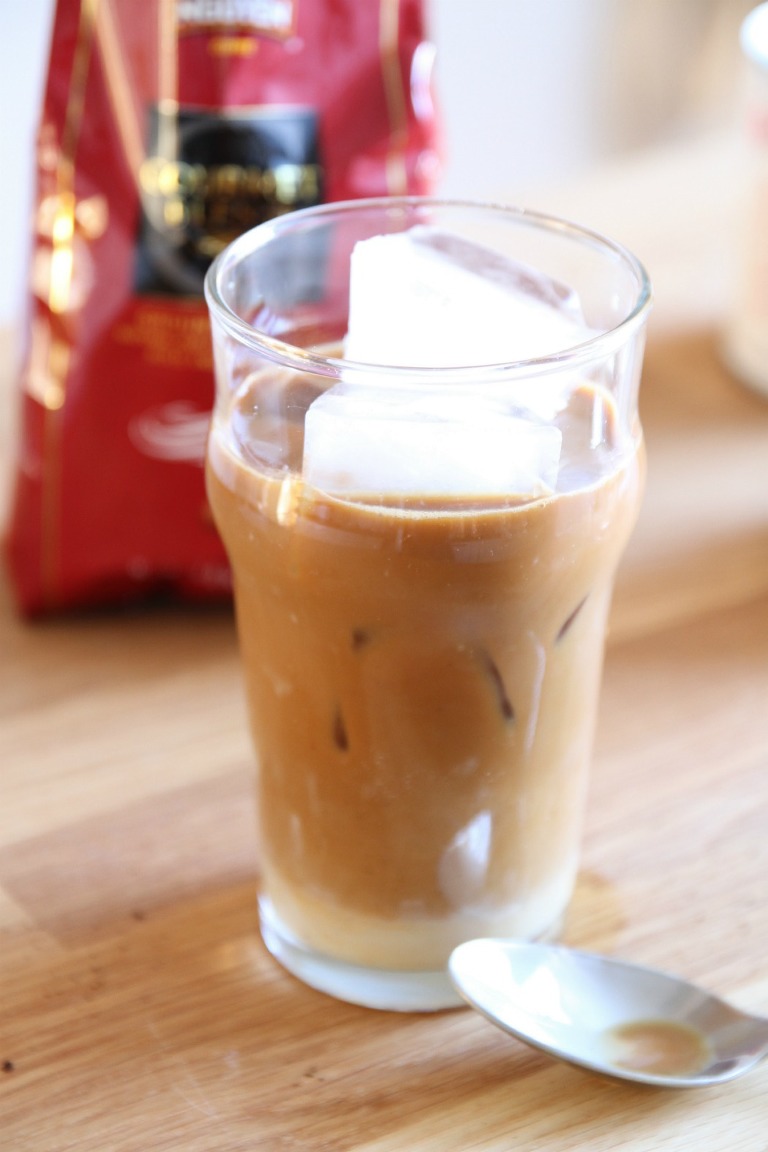 Enjoy with a few of your favorite magazines..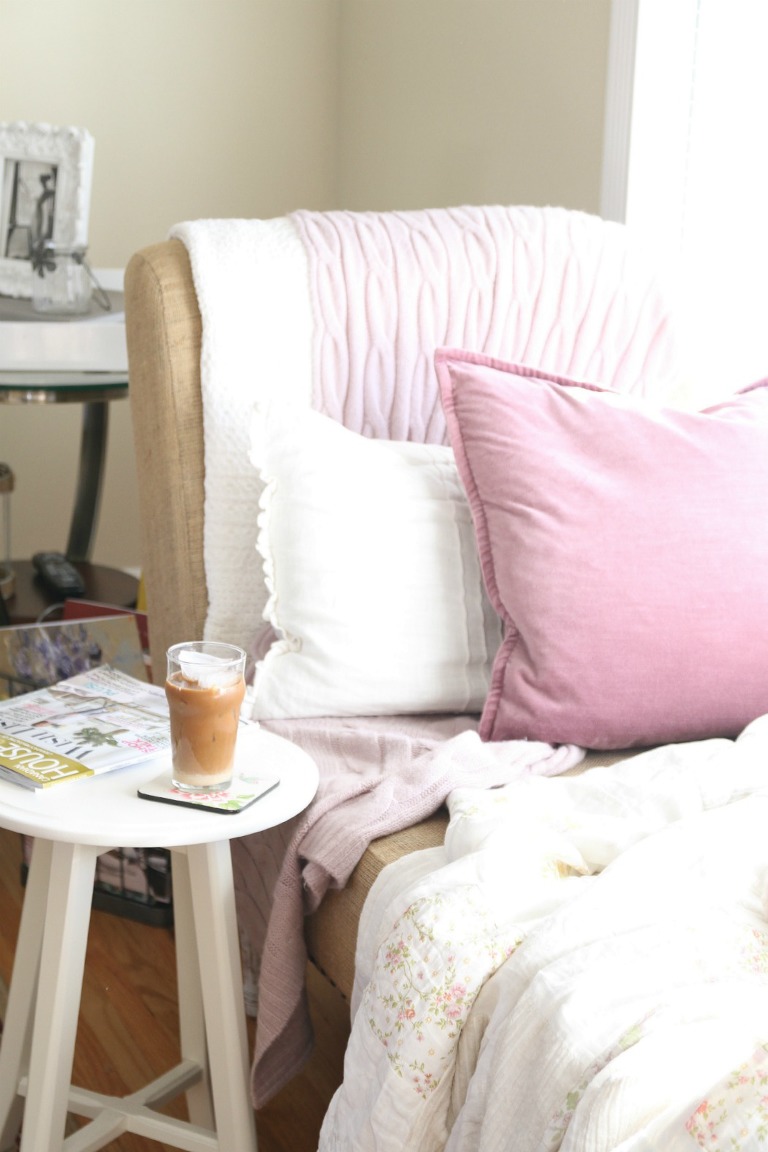 and your favorite little puppy.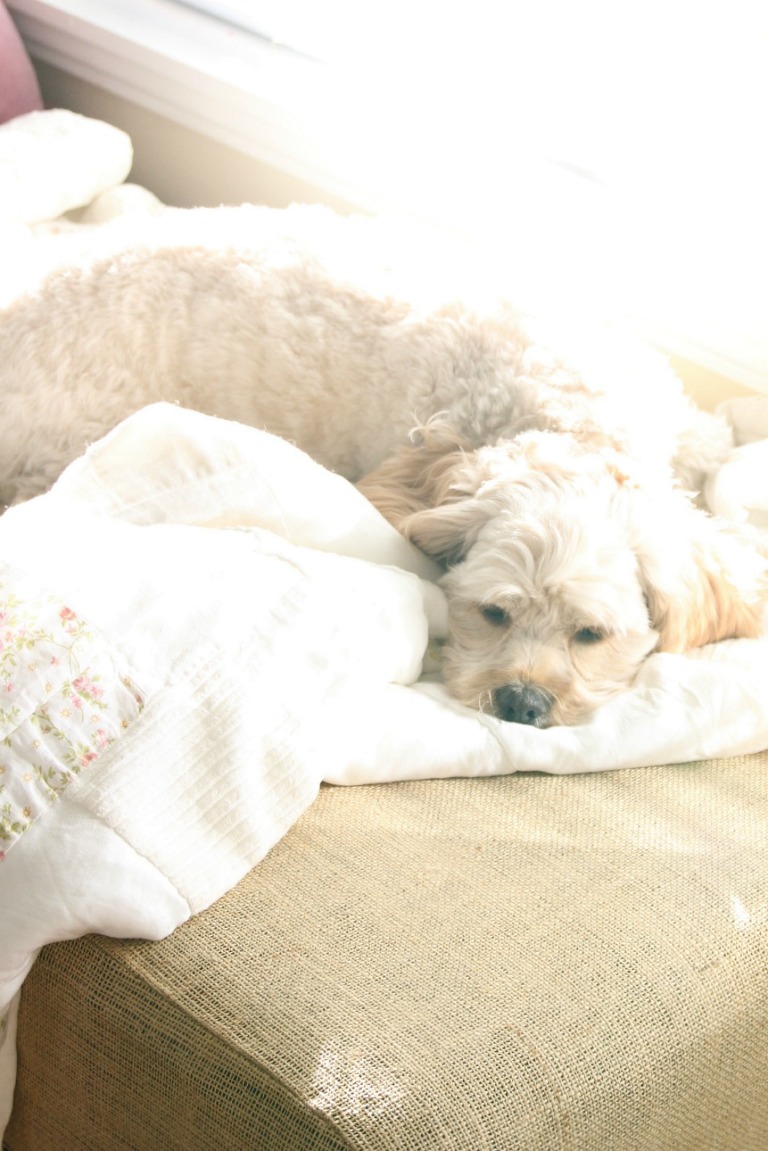 I've been changing up the decor in my living room.. I'll be back to show you how!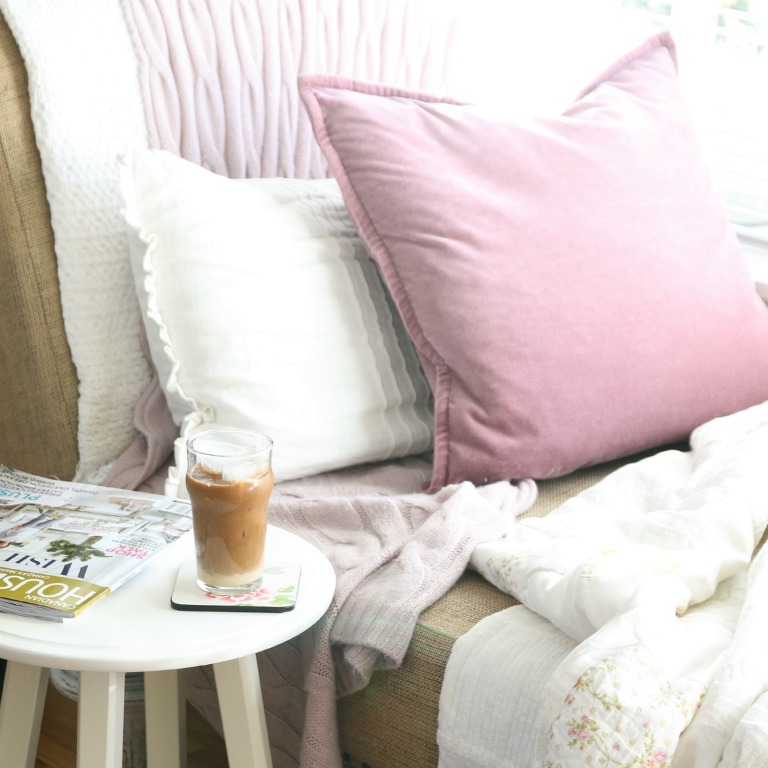 One final note.. as I am typing up this recipe, I can feel a definite caffeine "buzz".. or maybe it's the sugar in the Condensed Milk.. oops..
When I was served mine at The Coup, they added an extra pour over of cream which I feel isn't necessary.
The only thing I was missing was a straw so that I could keep it blended and not have milk left at the bottom!
Iced Vietnamese Coffee
Ingredients
2 tbsp Vietnamese Coffee (Cafe du Monde or Trung Nguyen)
2 tbsp Condensed Milk (Longevity Brand or Eagle Brand)
boiling water
small glass
glass of ice
spoon
straw
Vietnamese Coffee Press
Instructions
Measure two tablespoons of condensed milk into a small glass.
Then measure two tablespoons of Vietnamese coffee grounds into your coffee press. Add a small amount of hot water and firmly pack the coffee into the press. Turn the screw to ensure a slow five minute drip.
Set the coffee press over the glass of condensed milk.
Slowly pour hot water over until the press is full. Turn the screw to speed up or slow down the drip. There should only be a few drops per second and take five minutes to drip through completely.
Add the lid.
Fill a larger glass with ice.
Once the coffee is done dripping through, pour the condensed milk and coffee mixture over the glass of ice. Stir.
Serve with a straw.