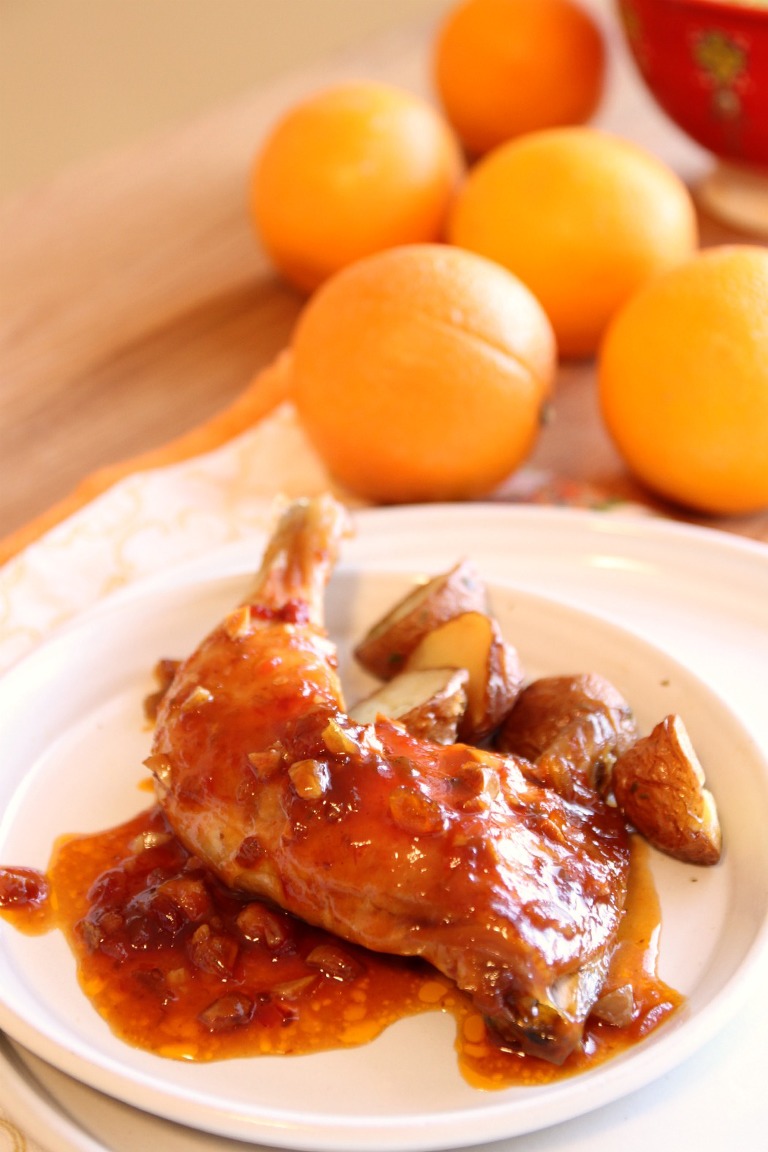 This quote is from another "Richard"..
"Now is the dinner winter of our discontent."
If you live in Canada, no doubt you've heard of our beloved Ricardo, perhaps picked up some of his cooking tools or have one of his awesome cookbooks in your kitchen. This quote means our "time of unhappiness is past" and that's always the case when we can get out of the dinner "doldrums" with new recipes to try.
"On Radio Canada for the past 13 years, with over 1,600 programs under his belt, Ricardo holds the record as the longest serving host of a daily cooking show in Canada. Broadcast on Food Network Canada and Global, Ricardo and Friends has also been successful internationally. The show is broadcast in more than 50 countries and allows people of many other languages and cultures to enjoy cooking his recipes."
♥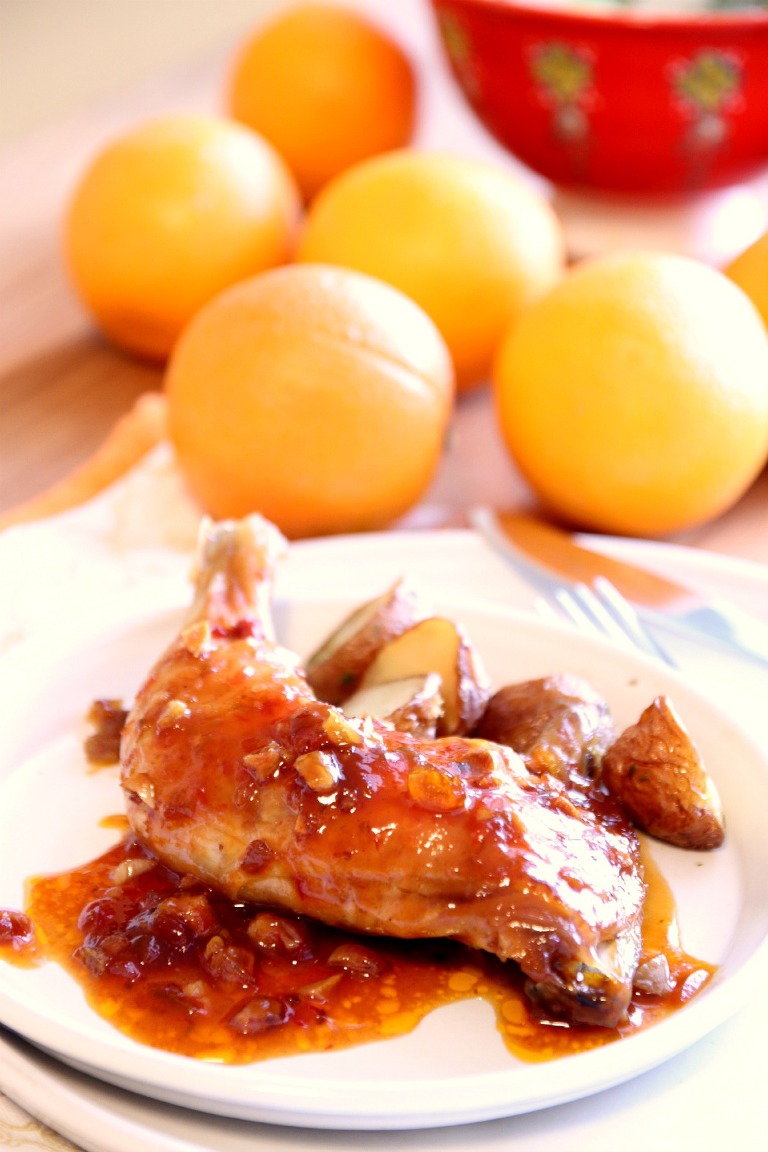 I was asked to try one of his chicken dishes and to share it with you here. Since we eat far less meat these days, I'm always on the look-out for new chicken recipes. I was quick to select this one, just looking at the photos made me hungry.
As you know, I've been crazy busy of late in real estate so, to be entirely honest, I also selected the recipe that had the fewest ingredients and steps: Ricardo's Maple Glazed Chicken.
You can find his original recipe on his website.
Ricardo's Maple Glazed Chicken
I was also encouraged to experiment a bit with his recipe and I ended up doing so. As I was throwing it together before an evening meeting I discovered, much too late, that it should have been a marinade. I had thought from the photos it would have a glaze consistency. It was also supposed to be grilled. So.. with a meeting and my kids arriving for a late dinner, I knew I had to make this recipe for the oven and devise a few changes.
♥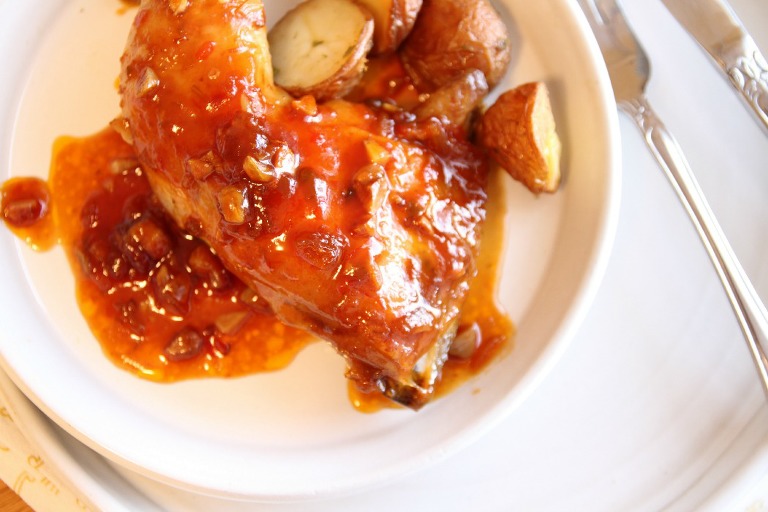 I added the juice of 1/2 an orange for interest to the marinade, then simply basted the chicken with the marinade for the first 30 minutes, then spooned over a generous dollop of Sweet Asian Chili Sauce on each chicken quarter to create a glaze, then left it to bake while I ran out the door to my meeting. I even had to stop in to see if my neighbor could take it out of the oven for me. Thank goodness for awesome neighbors!! It baked up beautifully and was waiting for us when we got home!
♥
Ricardo's Maple Glazed Chicken
I was so pleased with the results of this dish, it definitely looked pretty enough to serve to company and my kids loved it. This is one recipe that will be added to my rotation of favourites.
I used chicken quarters instead of drumsticks, I think their presentation looks more.. well, more-ish on a plate. But I'm sure you can use drumsticks or thighs, even chicken breasts if you reduce the cooking time accordingly.
♥
Ricardo's Orange Maple Glazed Chicken
Ingredients
6 chicken quarters
1/2 cup maple syrup
1/2 cup chili sauce (Heinz)
1/4 cup white wine vinegar
juice from 1/2 orange
6 cloves of garlic, crushed and minced
salt and pepper
Sweet Thai Red Chili Sauce (A Taste of Thai)
Instructions
Preheat the oven to 375 F. Mix together all ingredients from maple syrup through to the garlic. Season with salt and pepper to taste.
Arrange chicken quarters in a roasting pan. Spoon ample sauce over each and bake for 30 minutes, basting every 10 minutes.
After 30 minutes, squeeze or spoon a generous amount of the Sweet Red Chili Sauce over each chicken piece.
Continue to bake until juices are clear when the chicken is pierced or an internal temperature of 165F is reached. Total baking time is about 45-50 minutes.
ever,
Smidge
ps Just a Smidgen was compensated for this post, but the opinions and ideas, photography expressed are my own.