♥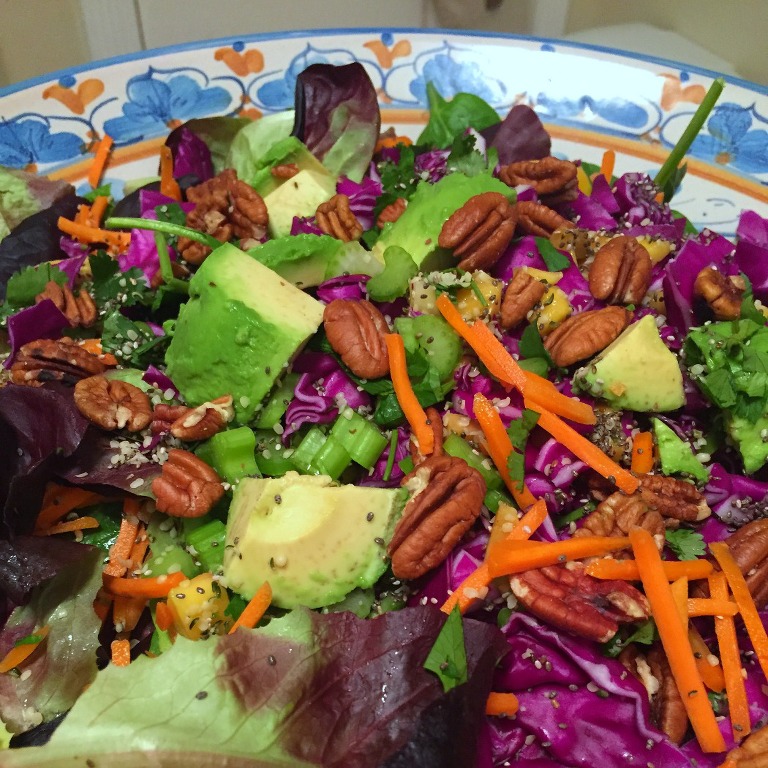 I'm so happy to say that the fitness goals I set out to accomplish back in January 2015 have been reached! One year.. yeah, I'm it took me a while!
It's time to celebrate but the push is still on to build stronger abs, quads and hamstrings. I'm hoping to avoid long term issues with my knees by making my legs stronger than ever.
Even through Christmas I have managed to eat pretty healthy and have enjoyed the odd treat.. and a glass of wine with friends is still welcome. I've discovered that you don't have to give everything up to reach your goals, just maintaining consistent healthy habits goes a long way.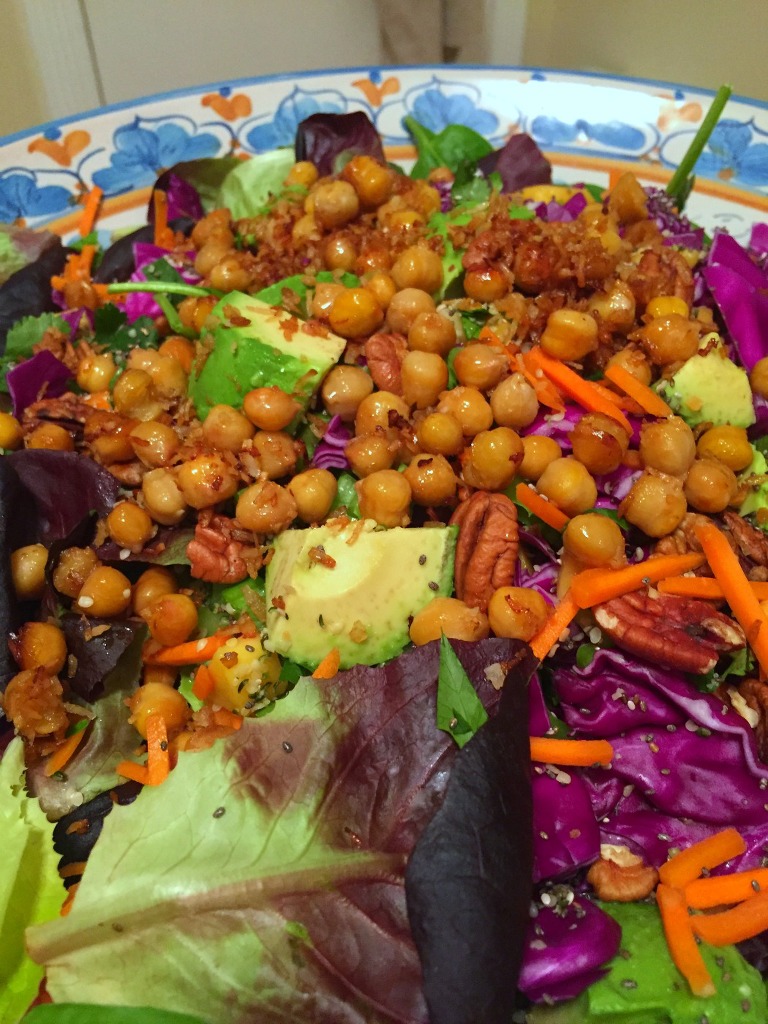 I'm always on the lookout for a new salad and this one is my new favourite. I made it along with coconut rice plus a large salmon filet for my kids last night. I had lots of leftovers for my food prep for the week.. awesome!
This recipe is adapted from The Mean Green Detox Salad, basically I used her Lemon Tahini Dressing and changed up the rest to suit my family. Next time I will plan to try her Vegan Parmesan.. but for now, this salad will be on rotation in my house.. I loved it, especially liked the crunchy addition of hemp and chia seeds!
I think this salad is so thick and chunky it's almost better served as a "bowl".. I think I'll sprinkle pumpkin seeds over it next time.
Tahini Crunch Salad
Ingredients
Salad:
1 large package mixed greens (spinach, arugula, kale, etc)
1/3 small package sliced carrots
3-4 celery stalks, sliced
2 avocados, sliced
1/8 purple cabbage, sliced
1/2 cup pecans
1/2 cup cilantro, chopped
handful Hemp Seeds
handful Chia Seeds
Chickpeas:
1 large can chickpeas, rinsed and drained
1 cup unsweetened flaked coconut
2 tbsp sesame oil
1 tbsp soy or tamari sauce
4-5 dashes tabasco sauce
Tahini Dressing:
2 tbsp tahini
2 tbsp olive oil
1 tsp soy or tamari sauce
1 lemon juiced
1/2 lemon zest
2 cloves garlic
2 tsp fresh ginger, minced
salt and pepper to taste
Instructions
Preheat the oven to 350F. Line a baking sheet with parchment paper. Spread the chickpeas on the prepared pan. Sprinkle coconut over. Sprinkle over with sesame oil, soy sauce and dashes of tabasco. Use your hands to mix thoroughly and spread over the baking sheet evenly. Bake until the coconut is toasted brown. Set aside to cool slightly.
Assemble the salad ingredients in a large salad bowl or plate. Sprinkle over with the cooled chickpeas and coconut.
In a small bowl, whisk together all of the Tahini Dressing ingredients.
Spoon over your salad and serve.
Love,
Smidge