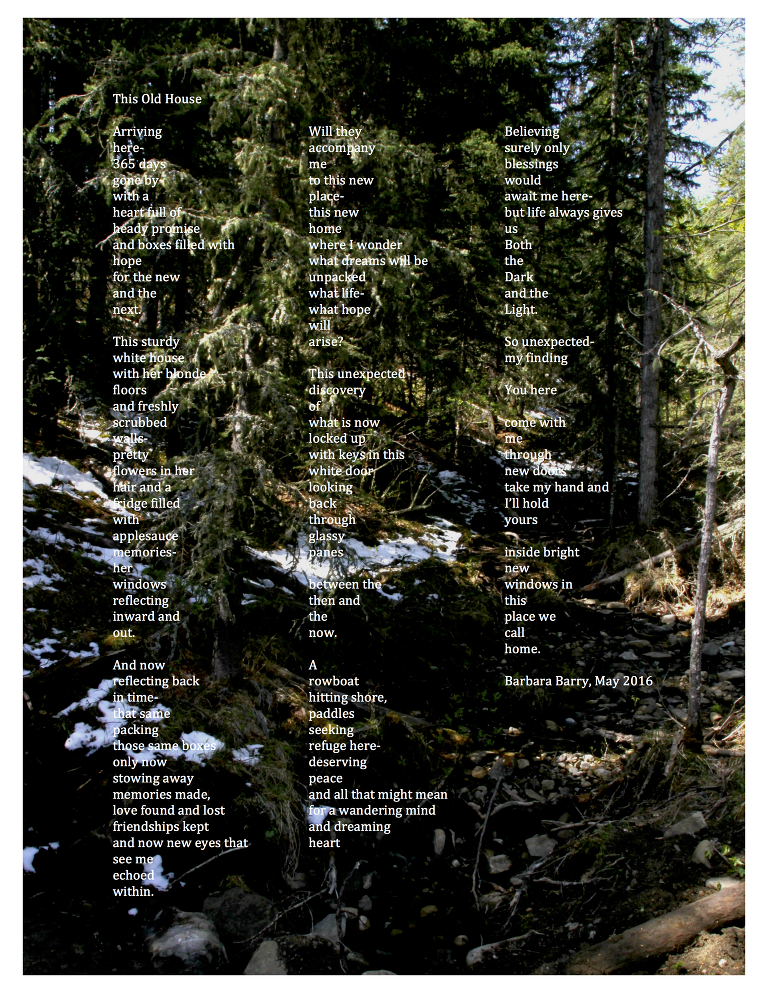 ♥
This Old House
Just a Smidgen is on the move again, packing up my home brings with it all sorts of unexpected emotions. This old white house was the perfect refuge, its glass kitchen window reminded me of my Gran's and brought back memories of looking out and seeing her apple tree, making apple sauce in her kitchen and baking homemade cinnamon buns. My Gran was such an important part of my life growing up. The similarities between this home and hers made me feel safe and gave me a sense of belonging.
With sadness in my heart, I am still longing to move on to this next juncture in my life, into a space where even the furniture is all my own. However, I found I am also packing up all sorts of significant memories, along with nostalgia for the "little girl" who moved in here one year ago. Reflecting on the changes that have shifted in my mind and heart, I've unexpectedly revealed a new self that has blossomed with so much more depth and strength of character and authenticity, all through the myriad of experiences I've gone through this past year in this place. Not all experiences brought joy along with them, most importantly the loss of seeing my two lovely children every day. But I've learned that most of my spiritual growth has taken place through the "dark" times, without those I wouldn't be the person I am today. I cherish those times when my children are in my kitchen or we're seated together in a cafe, laughing and enjoying each other's company. I love the nightly texts that say I love you and I love you back.
This poem shares the optimism I will feel when bringing this new "me" that I've discovered along into my new home, filled with wonder and renewed hope for what comes next.
♥
Love,
Smidge
This Old House
Arriving
here-
365 days
gone by-
with a
heart full of
heady promise
and boxes filled with
hope
for the new
and the
next.
This sturdy
white house
with her blonde
floors
and freshly
scrubbed
walls-
pretty
flowers in her
hair and a
fridge filled
with
applesauce
memories-
her
windows
reflecting
inward and
out.
And now
reflecting back
in time-
that same
packing
those same boxes
only now
stowing away
memories made,
love found and lost
friendships kept
and now new eyes that
see me
echoed
within.
Will they
accompany
me
to this new
place-
this new
home
where I wonder
what dreams will be
unpacked
what life-
what hope
will
arise?
This unexpected
discovery
of
what is now
locked up
with keys in this
white door
looking
back
through
glassy
panes
between the
then and
the
now.
A
rowboat
hitting shore,
paddles
seeking
refuge here-
deserving
peace
and all that might mean
for a wandering mind
and dreaming
heart
Believing
surely only
blessings
would
await me here-
but life always gives
us
Both
the
Dark
and the
Light.
So unexpected-
my finding
You here
come with
me
through
new doors
take my hand and
I'll hold
yours
inside bright
new
windows in
this
place we
call
home.
Barbara Barry, May 2016