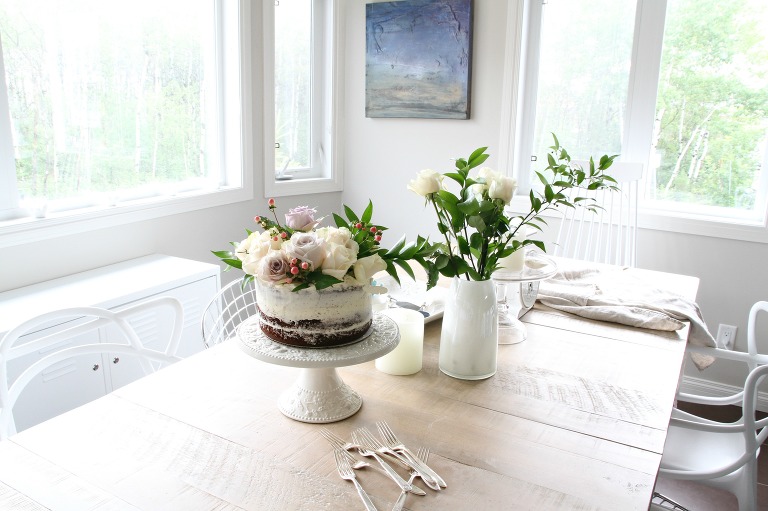 The request always starts out simple enough:
"Mom, would you like to make us a small wedding cake?
Just something for us to cut on our wedding day for our photos."
♥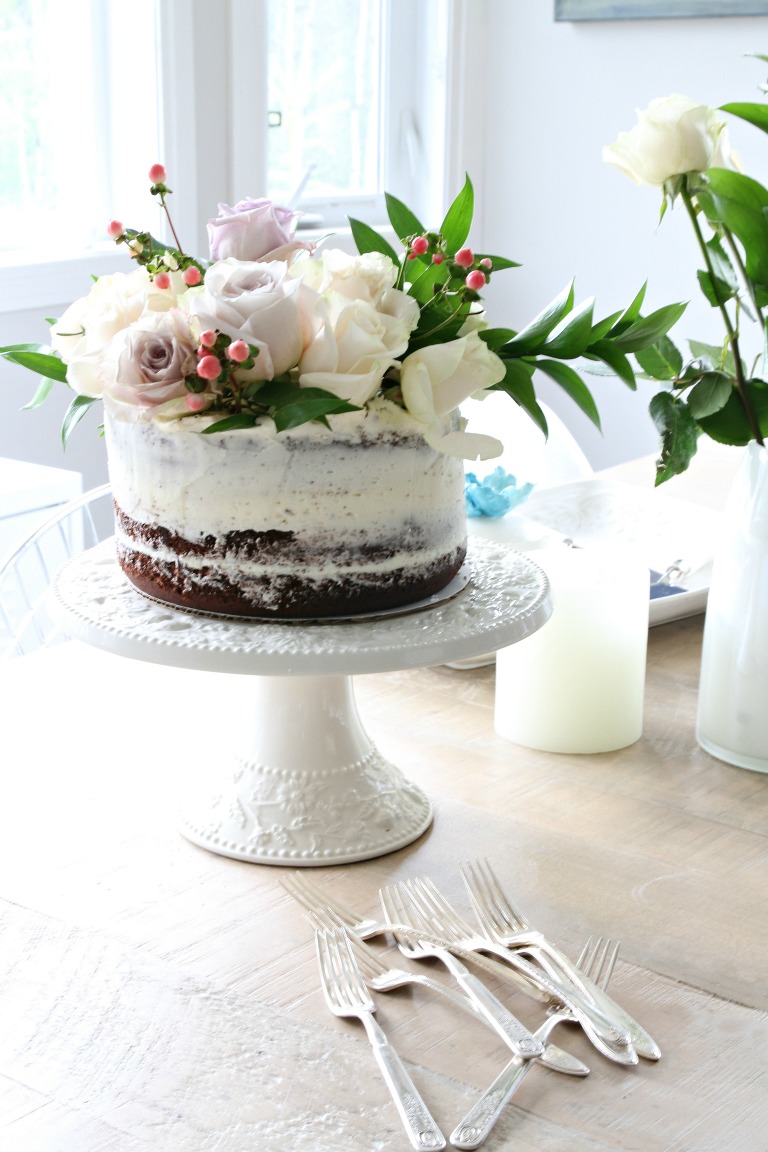 Hmmm.. let me think, was I at all interested in baking my daughter's wedding cake??
Heck, yeah!
How hard could it be.. a Naked Gluten-Free Chocolate Cake with Buttercream Icing?
Ahhh.. yes, well, let's just say the Gluten-Free part was a disaster with my first trial cake. I'll have to come up with a better cake recipe before
2017
♥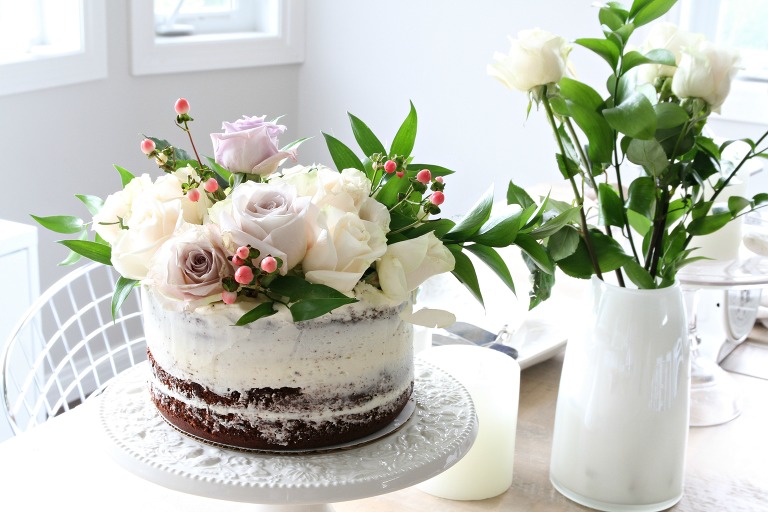 After that, the challenge was actually finding a way to decorate the cake with roses on top.
Most roses from a florist have pesticides, not a healthy way to serve up a wedding cake.
♥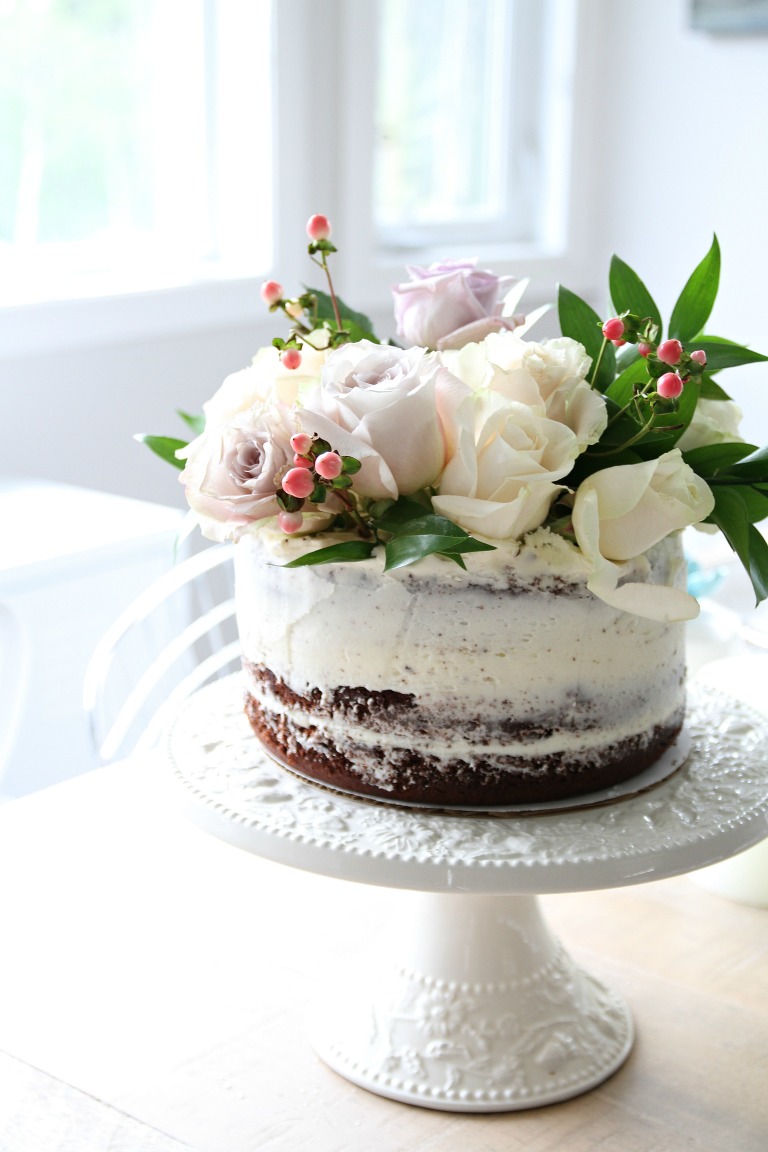 I had planted several rose bushes at my previous home, so the simplest thing would be to sneak out after dark and just cut a few of those.. yeah, not happening.
♥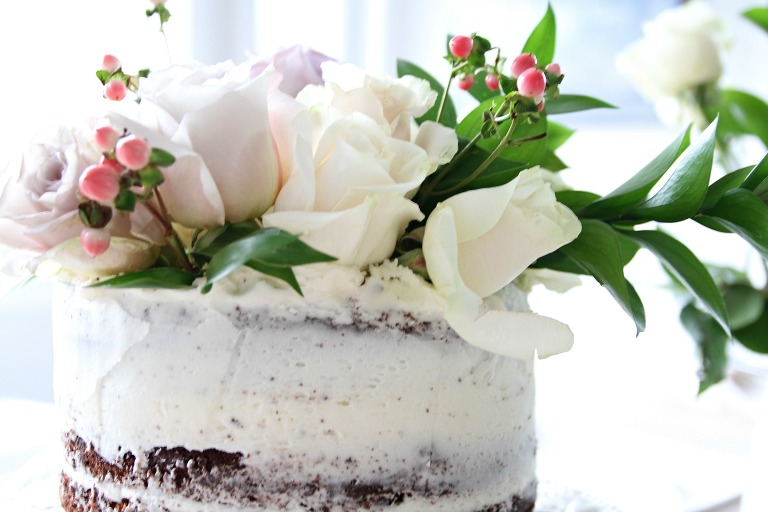 Splurge flowers had these pretty Earl Gray roses.. they were such a lovely rose when mixed in with the blush colored roses. To solve the decorating dilemma, I decided to simply lay a round of waxed paper on top, slice tiny X openings, wrap each rose stem in foil and insert them over the top. To cut the cake, just lift up and cut under the wax paper layer.
It was such a simple solution, I wish I'd known it would be that easy, because I couldn't have been as stressed all the way through the process. So if you don't own a home with an organic, pesticide free rose garden, this can be your go-to wedding cake.. or birthday cake.. or anniversary cake..or just because cake.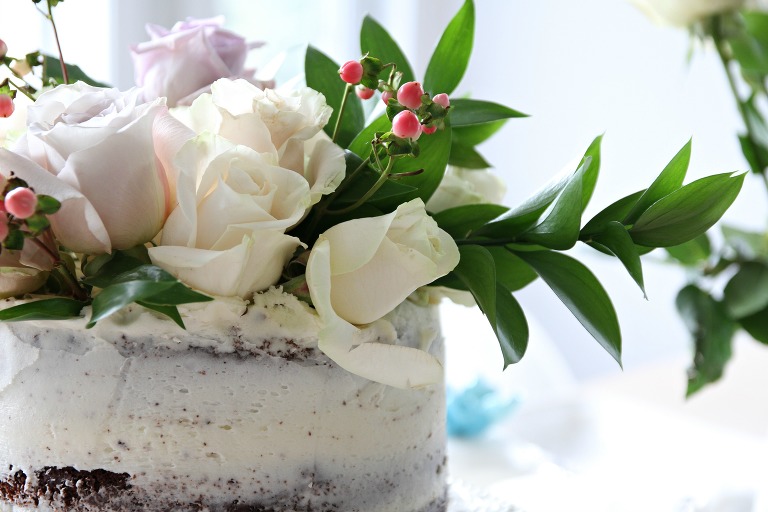 A Blushing Naked Caked
Ingredients
Cake
1 cup margarine, softened
1 3/4 cup white sugar
3 eggs
1 1/2 tsp vanilla extract
2 1/2 cups all-purpose flour
6 tablespoons unsweetened cocoa powder
1 1/2 tsp baking soda
1 tsp salt
1 1/2 cups whole milk
Icing
1 1/4 cup (2 1/2 sticks) butter, unsalted and at room temperature (not melted)
3 cups confectioner's powdered icing sugar (sifted)
1/4 tsp salt
1 tablespoon Wilton clear vanilla extract
1 tablespoons heavy cream
Instructions
Cake
Preheat oven to 350° F. Grease three 9" round cake pans. Line with wax paper and grease and coat the pans with sifted cocoa powder.
Sift together flour, cocoa, baking soda, and salt in a medium bowl.
In a large mixing bowl fitted with a paddle, cream together the margarine and sugar until light yellow and fluffy. Beat in the eggs, one at a time. Beat in the vanilla.
Beat in the flour mixture, alternating with the milk, mix just until incorporated.
Pour batter evenly into the two prepared cake pans.
Bake in the oven for 40-45 minutes or until a skewer inserted in the center comes out clean. Allow to cool somewhat then remove from pans, remove wax paper and place on wire rack to cool completely.
Icing
Directions
With the mixer fitted with a paddle attachment, beat the butter until it is light and fluffy, pale in color. This should take anywhere from 3-5 minutes.
Turn the mixer to low and gradually add 3 cups confectioner's sugar. Beat on low until it is incorporated, then turn the mixer to medium speed and mix well to blend.
Add vanilla extract, salt. Add cream until you have the desired thickness. Mix well for 3 minutes until frosting is light and fluffy.
Spread icing generously between layers and on top. Using an off set spatula, scrape round the cake to spread the icing from between the layers, still leaving the sides somewhat bare.
Top the cake with a round of waxed paper. Cut each flower stem short then and wrap stem with foil. Cut a small cross X in the wax paper and insert a rose. Repeat as desired.