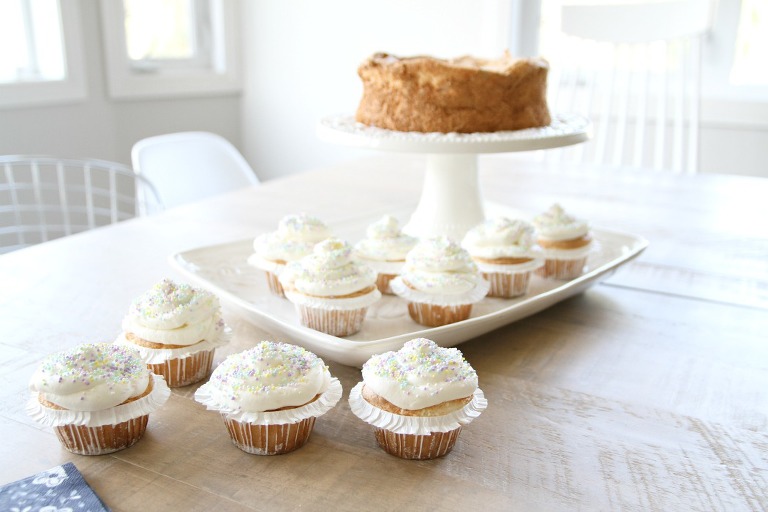 Nothing is more heavenly than Angel Food Cake.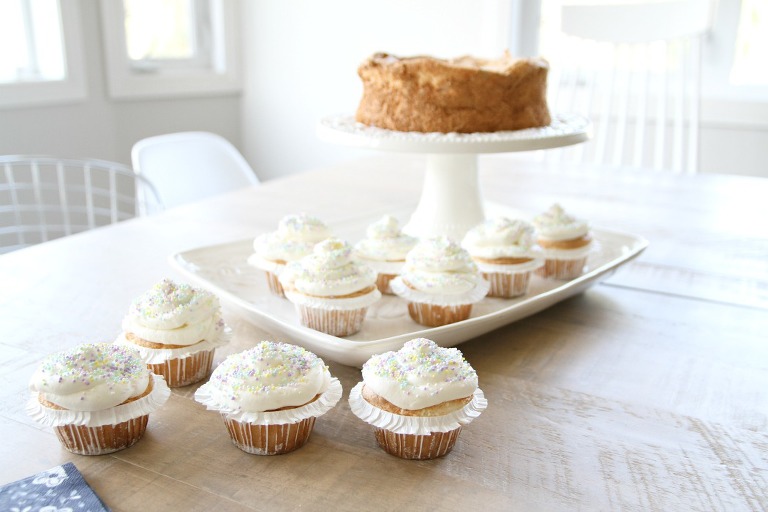 The white frosting and sprinkles made these cupcakes even prettier.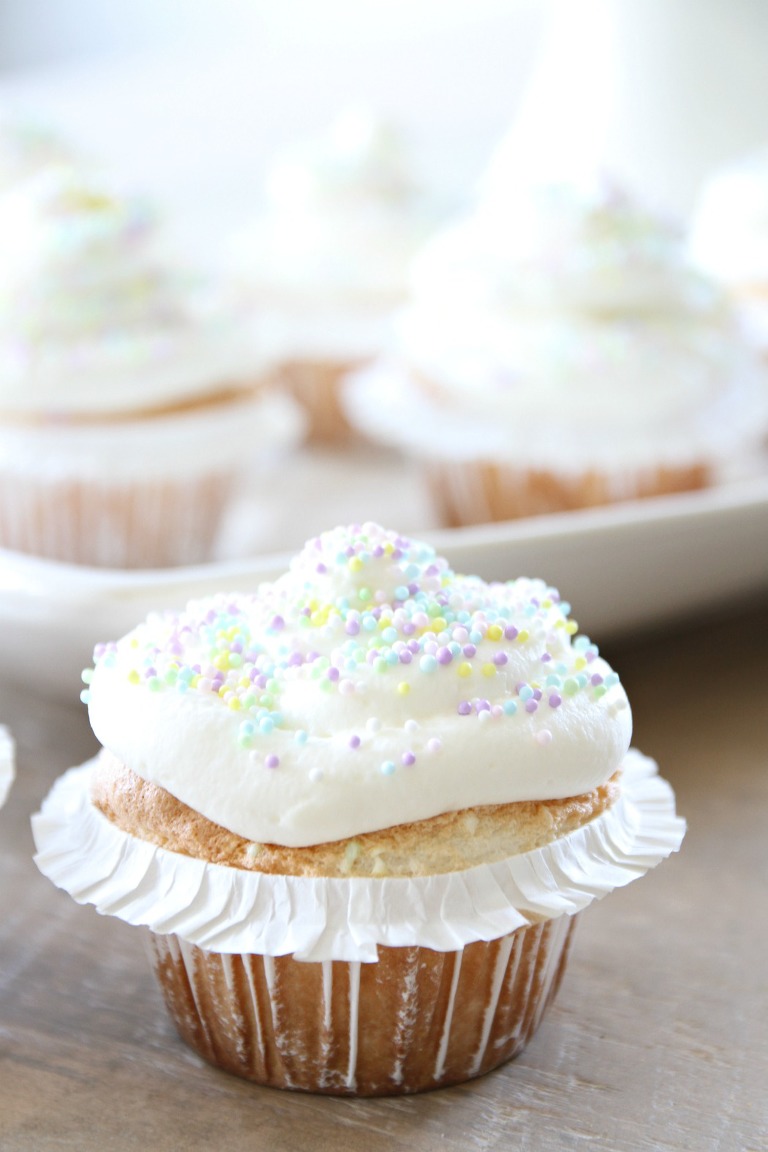 I need more practice with piping, but the texture and flavor were perfect!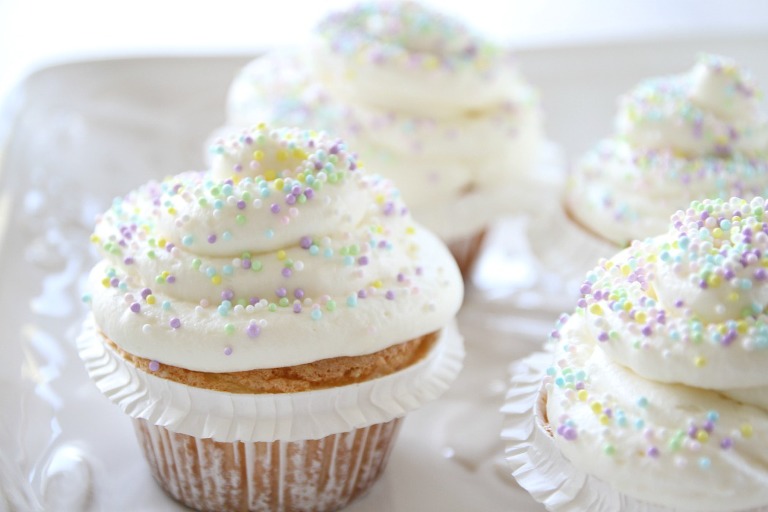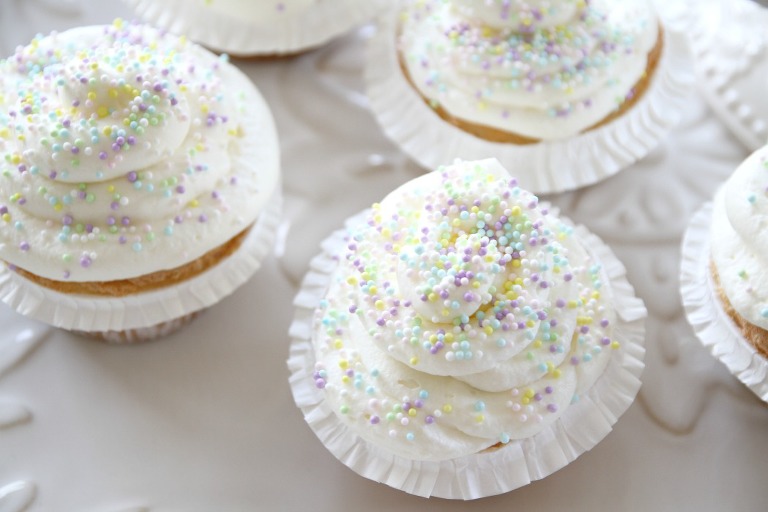 You would never know that this is a Gluten Free recipe.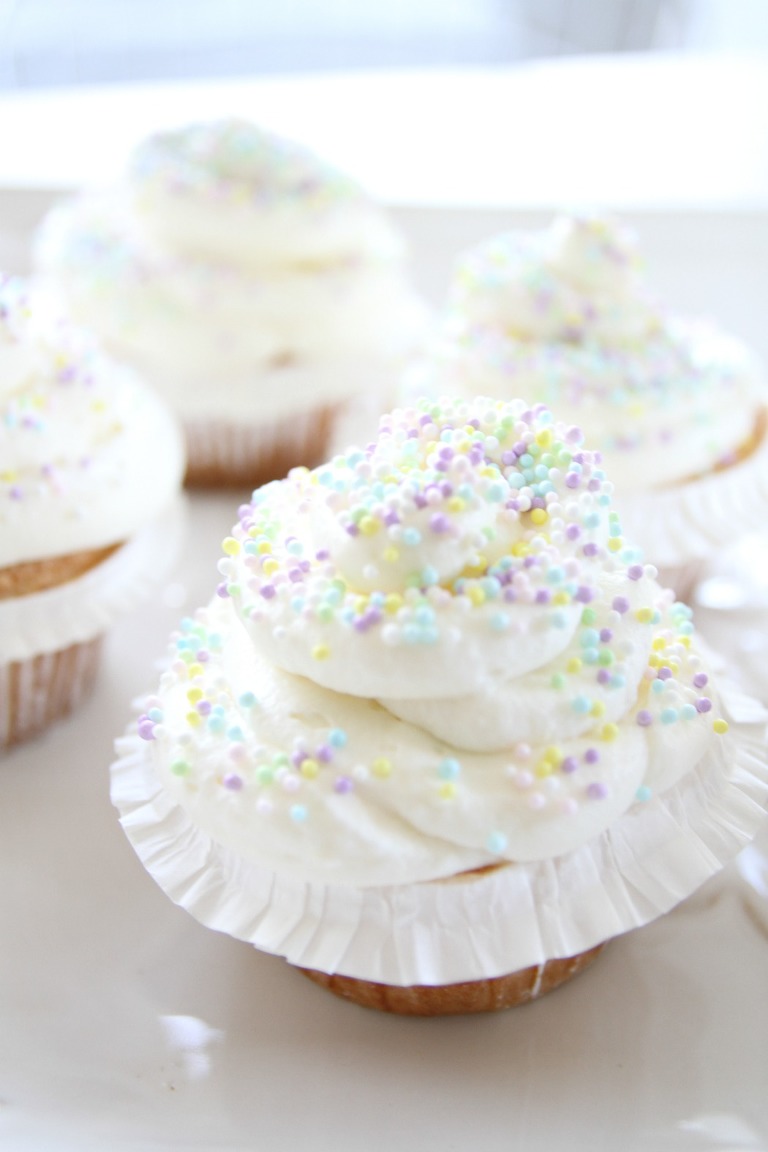 There was enough batter to make 12 cupcakes and one large cake.
You might see there are 2 cupcakes missing in the photos 😉
I'm sure there aren't very many calories in something so light and airy, right?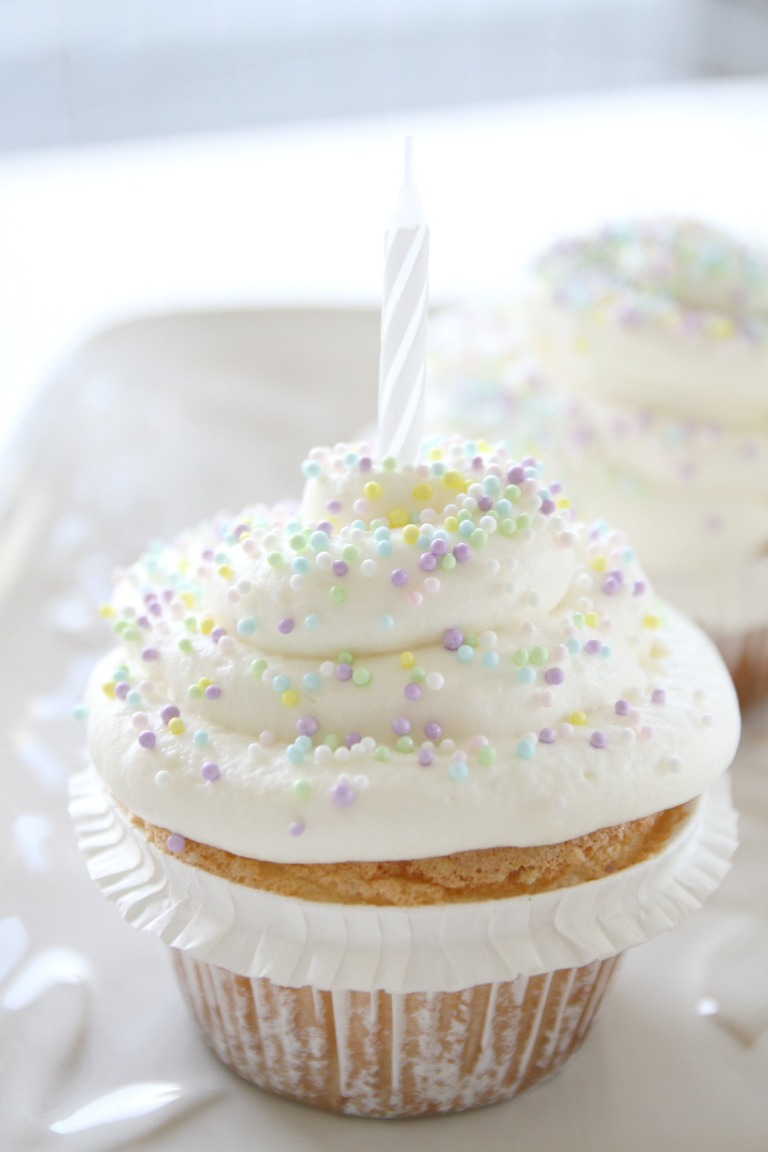 How pretty are these for a birthday, engagement party, even a wedding?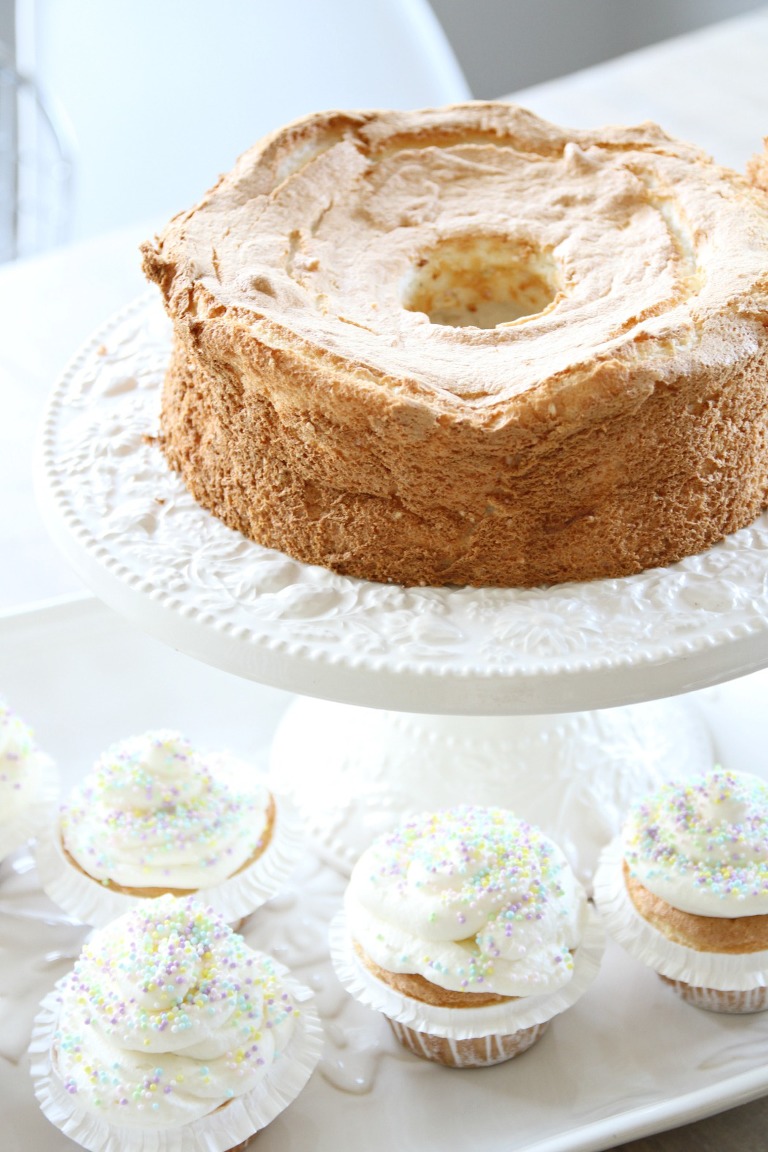 I seem to have so many egg yolks left over, I might have to make a sponge cake next.. stay tuned.
Heavenly Gluten-Free Angel Food Cupcakes
Heavenly angel food cupcakes made Gluten Free.. this is the most amazing recipe!! Perfect for birthdays and weddings or any occasion! Recipe adapted from Martha Stewart Living: http://www.marthastewart.com/1140226/gluten-free-angel-food-cake and Cooking Classy: http://www.cookingclassy.com/2014/05/funfetti-angel-food-cupcakes/
Ingredients
Cake:
3/4 cup sifted Cup4Cup flour
3 tablespoons cornstarch
1 1/4 cups superfine sugar
14 large egg whites (1 3/4 cups), room temperature
1 tablespoon warm water
1/2 teaspoon salt
1 1/2 teaspoons cream of tartar
2 teaspoons pure vanilla extract
3 tablespoons funfetti/sprinkles
Fresh berries and lightly sweetened whipped cream, for serving
Frozen berries in light syrup, thawed and Cool Whip non-dairy whipped topping thawed
Frosting
1 1/2 cups heavy whipping cream
6 oz cream cheese, room temperature
1/2 cup + 2 Tbsp powdered sugar
1 tsp vanilla extract
Funfetti/sprinkles
Instructions
Preheat oven to 350 degrees.
Sift together flour, cornstarch and 3/4 cup sugar four times into a small bowl and set aside.
In the bowl of your mixer, whisk together egg whites and warm water on medium speed until foamy.
Add salt, cream of tartar, and vanilla then beat just until soft peaks form, about 3 minutes. Increase to medium-high and add in remaining 1/2 cup sugar, 1 tablespoon at a time. Beat until stiff but not "dry".
In six additions, sift dry ingredients over meringue, folding in quickly but ensure you are folding gently. Fold in the sprinkles at the same time.
Scoop batter into paper cupcake liners, I used my large "clickable" cookie scoop. I filled 12 cupcakes then gently spooned the remaining batter into an ungreased 10-inch angel food pan with removable bottom. Alternatively, you can just make all cupcakes or one larger angel food cake.
Run an off-set spatula through the batter of the cake to remove air bubbles then smooth the top. I didn't do this with the cupcakes.
Bake until golden brown and slightly springy to the touch, about 40 to 45 minutes. Check the cupcakes after about 30-35 minutes as they will bake faster.
Set the cupcake pin on a cooling rack until they completely cool. Invert the cake pan over a cooling rack until it also cools completely. This will take about 1 to 1 1/2 hours.
Then run a sharp knife around the outer edge of the pan to loosen the cake. Then run around the inside tube. Invert and remove the side of the pan. Then run a knife gently across the bottom to remove the cake completely if it doesn't separate on its own.
Arrange cake on a plate and gently cut slides using a serrated bread knif. I served with berries, frozen berries in syrup and whipped cream or Cool Whip. Store cake at room temperature up to 2 days in an airtight container or wrapped in plastic.
Frosting:
In a mixer fitted with a whisk, whip cream until stiff peaks form, scrape into a bowl.
Then fit the mixer with a paddle attachment and beat the cream cheese until smooth. Add in the whipped cream, confectioner's sugar and vanilla flavor. Blend until combined.
Pipe the frosting using a large frosting bag fitted with a large round frosting tip.
Put one cupcake on a plate and sprinkle with funfetti. Repeat for remaining cupcakes.
Refrigerate if not serving immediately.
Love,
Smidge