With Autumn comes shorter days and the welcome shift to heartier meals, I love pulling out recipes that were tucked away months ago.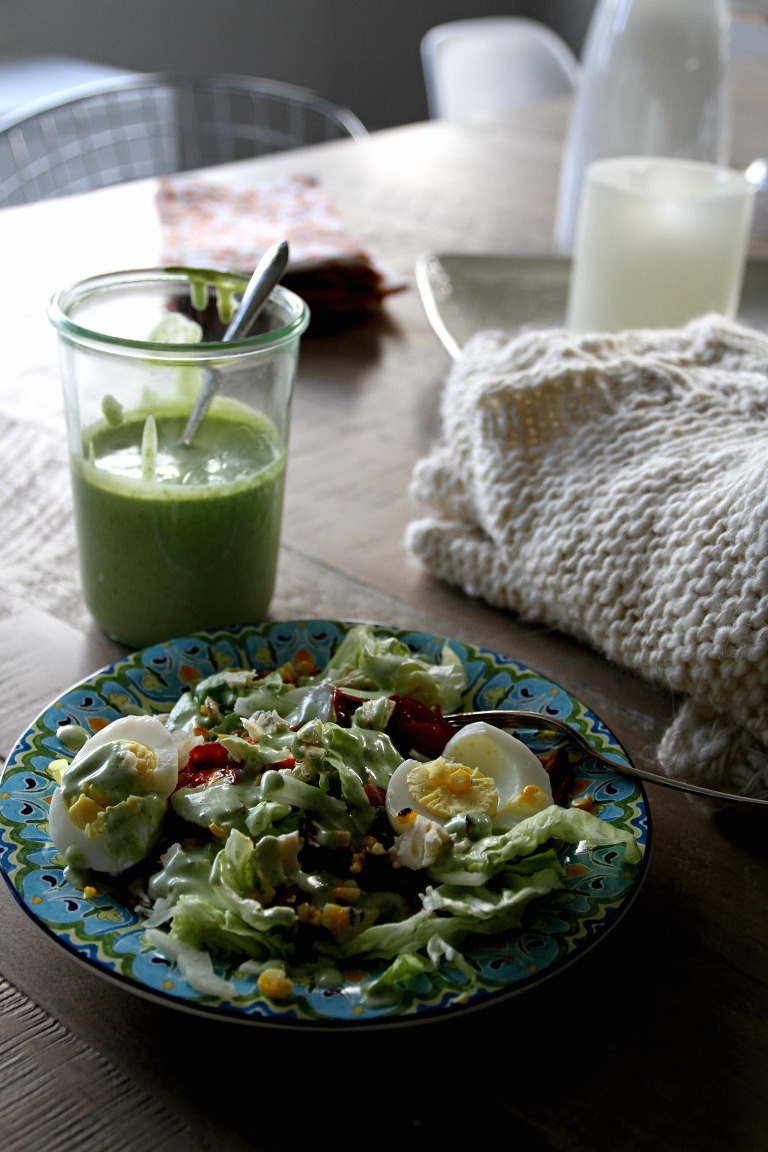 One of my least favourite salads, to be honest, has always been the Cobb Salad. Resigned to the category of "much too heavy", "far too rich" and just plain "over the top with calories", I've never had the urge to make one..
until now.
My loveliest of girlfriends, Sharine, recommended a wonderful new place for breakfast and lunch. The Ace Diner offers a fresh approach to traditional diner favourites. The interior is charming but contemporary and current in its decor, layout and graphic design. It's my new "go to" and I can't wait to take my kids there to sample the rest of the menu.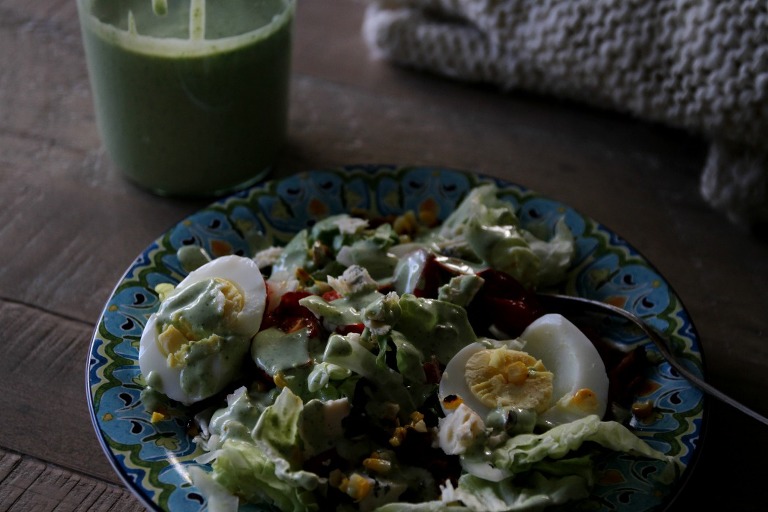 One item their menu was a Cobb Salad and it totally surprised me when Sharine said it was fantastic and she was ordering it again. You need to know, this is a gal from the gym who works out daily, is a master chef and the sort of person who cooks only the healthiest and freshest for her family! I took her word for it and I am so glad that I did..
and I've been craving it ever since.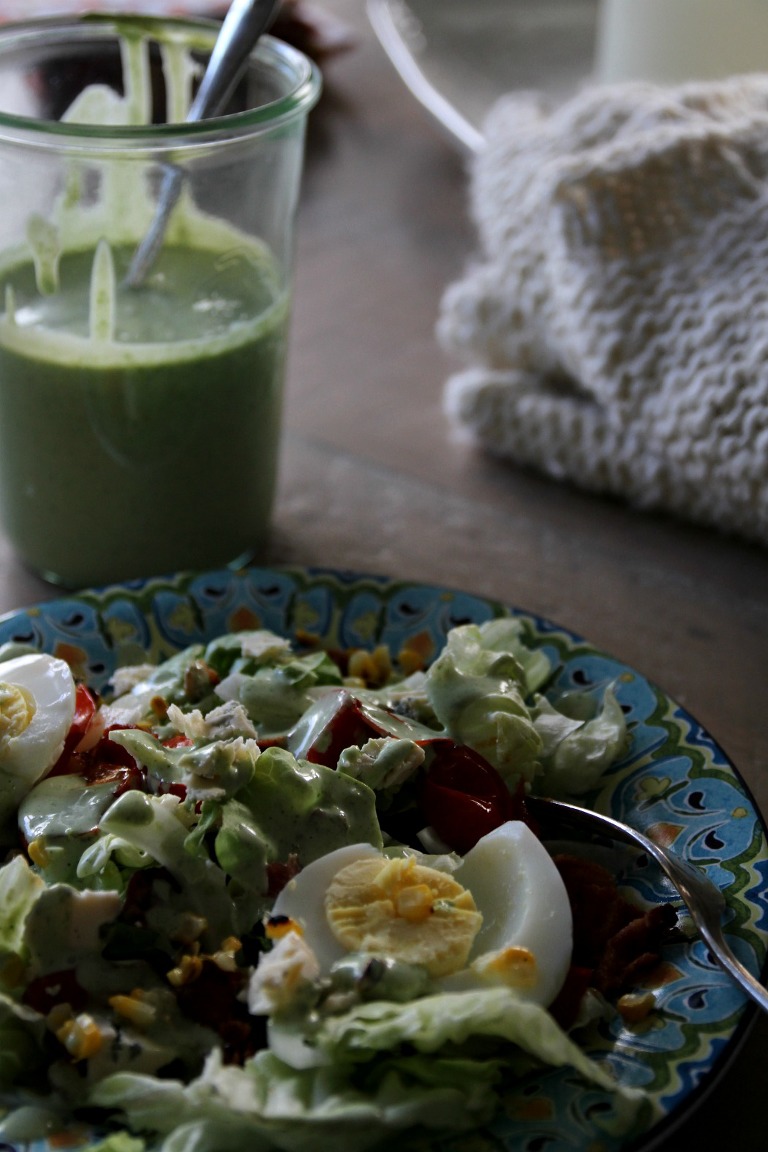 This isn't your typical heavy Cobb Salad, they've updated it with the freshest and most fragrant of ingredients.
The dressing was a lightly drizzled Green Goddess Dressing, even the color of the dressing with the softest of garden greens.. and it was so good I had to refrain from licking the plate. Portions were ample so I boxed up half and had it with my dinner that night.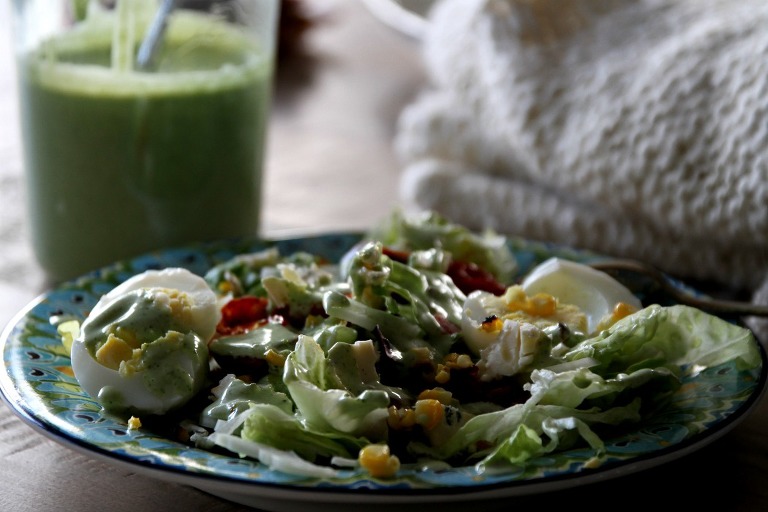 A girl can't eat out every day.. even though she'd like to, so Sharine and I decided to work out our own Cobb Salad. Sharine found an easy Green Goddess dressing on Simply Recipes. I have my own but wanted to try something new and I love the light almost citrusy taste of this one.. it's addicting.
After that all that was needed was some simple prep of ingredients..
sliced fennel, oven roasted tiny tomatoes, hard boiled egg, tender pieces of freshly fried bacon, bits of corn grilled on the barbecue and crumbled gorgonzola cheese all scattered over a bed of tender butter lettuce. If you make enough you can have it again the next night.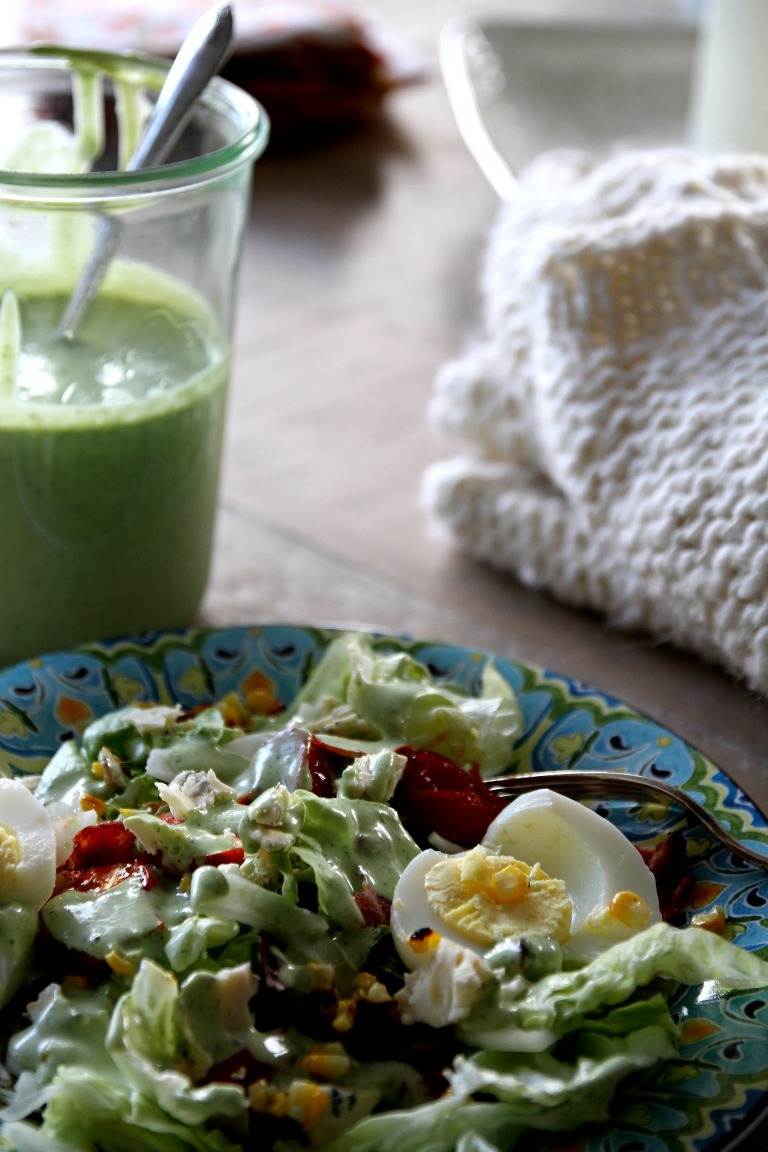 The trick is to just sprinkle all of these ingredients very sparingly and lightly over the salad, a drizzle of dressing over top then serve.
You'll have enough of this dressing to make this one again or serve it over top of any fresh garden salad for the next week.. it makes enough that you may want to give some of it to someone special.
You're welcome:)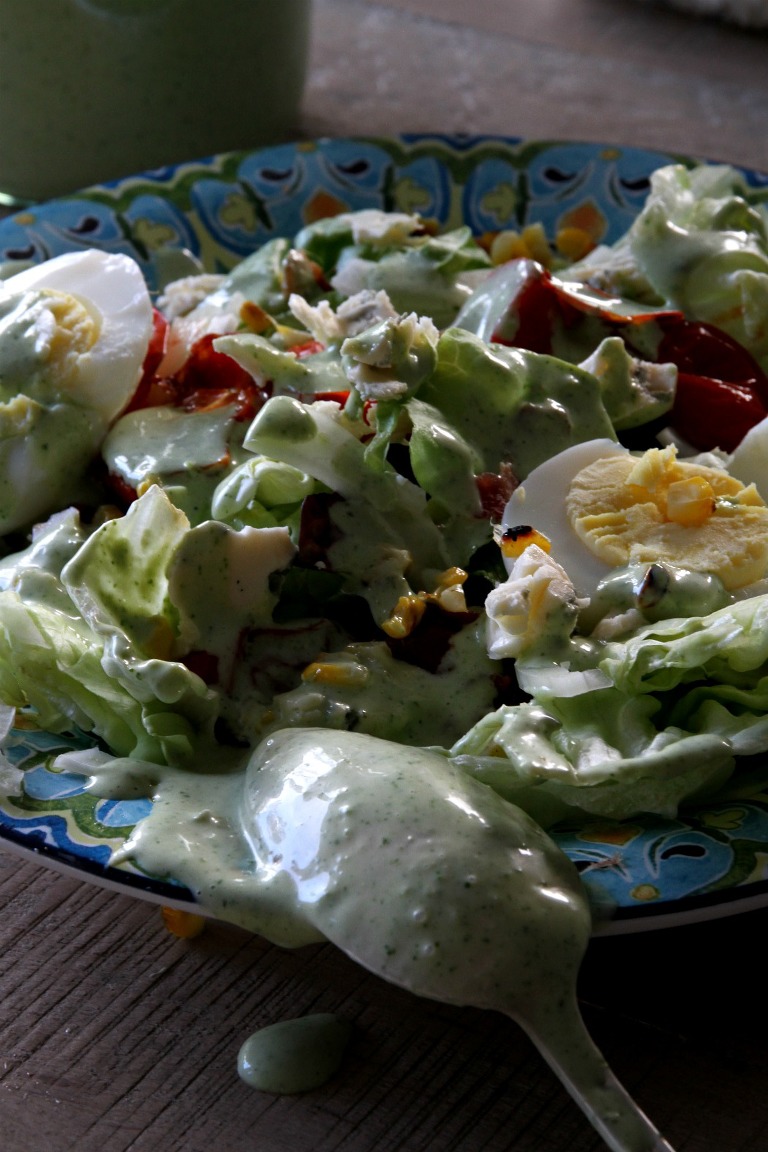 A Fresher Cobb Salad with Green Goddess Dressing
Ingredients
Green Goddess Dressing (Simply Recipes)
2 teaspoons anchovy paste or 2-4 canned anchovies
1 small garlic clove, minced
3/4 cup mayonnaise
3/4 cup sour cream
1/2 cup chopped parsley
1/4 cup chopped tarragon
3 Tbsp chopped chives
2 Tbsp lemon juice
Salt and black pepper to taste
Salad Ingredients
one small container grape tomatoes
Olive oil
salt and pepper
one bulb fennel
4-5 slices bacon
2 cobbs corn
3-4 hard boiled eggs
1 wedge gorgonzola cheese
Instructions
Dressing
Place all ingredients in a blender and blend on high until all ingredients are emulsified and whipped together.
Salad Ingredients
Turn oven to 400F.
Cut in half then toss the grape tomatoes lightly in olive oil. Scatter over a foil covered baking pan. Roast for about 15 -20 minutes, checking frequently to see if the tomatoes are roasted and just slightly browned and softened.
Cut the fennel bulb in half. Cut out the core by slicing a triangular shape right through the center of each fennel half. Place the bulb down and slice from the end thin slices of fennel.
Cook the bacon in a frying pan until just browned, press between pieces of paper towel then crumble or break into pieces.
Preheat the barbecue on high. Shuck the corn, rub with oil then grill over high heat. Turn frequently until all sides are browned and cooked through. Let cool then cut the kernels off the corn.
Assemble the Salad
Lay the butter leaf lettuce over a platter or in individual dishes. Scatter very lightly small amounts of the salad ingredients. Drizzle lightly with the dressing and serve.

Love,
Smidge