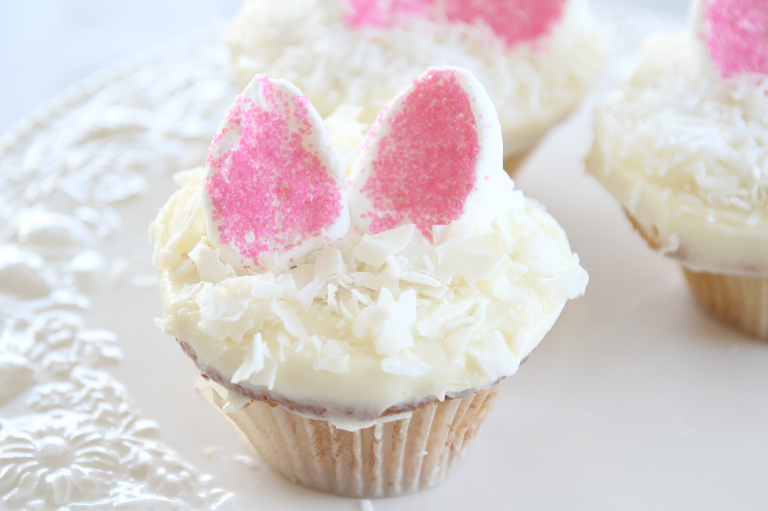 simply adorable
♥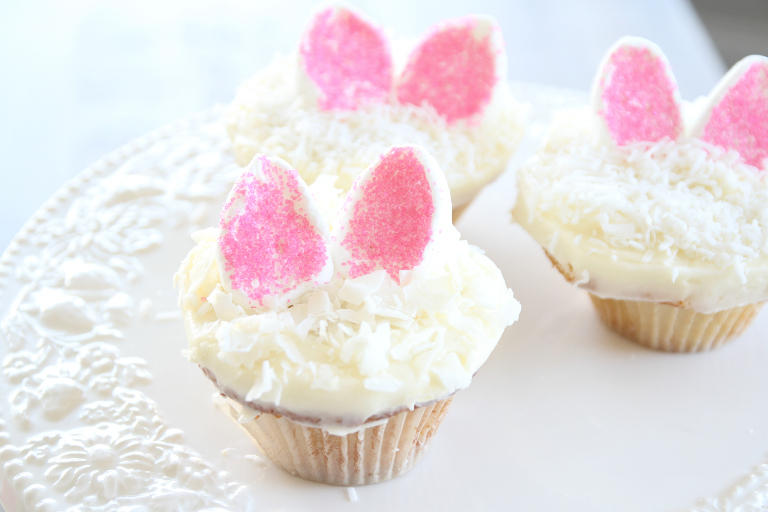 simple
and
softly sweet
♥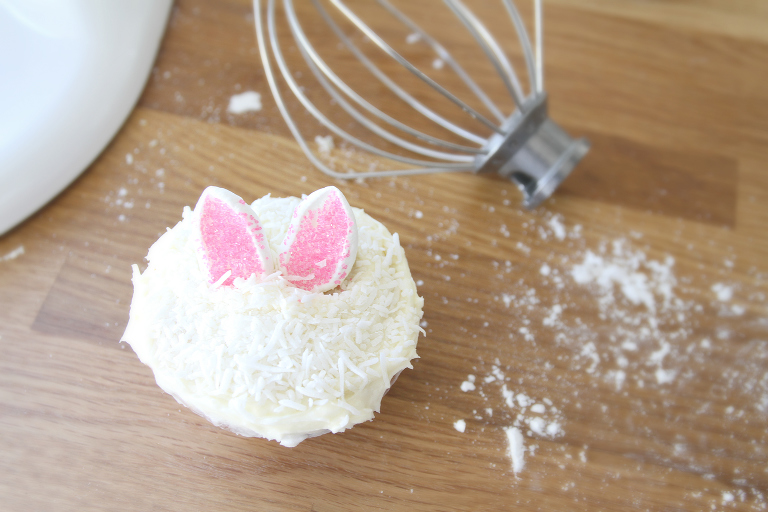 these little coconut cupcakes
were so easy to make
♥
Easter-ish
with the addition of
♥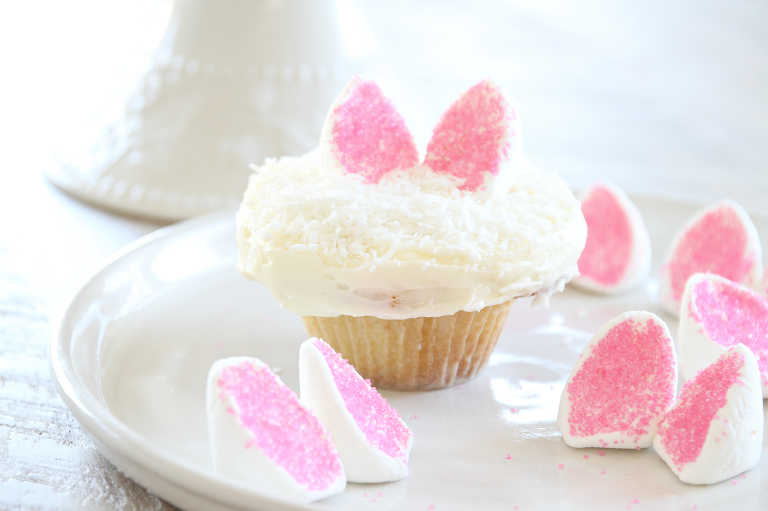 pink bunny ears
♥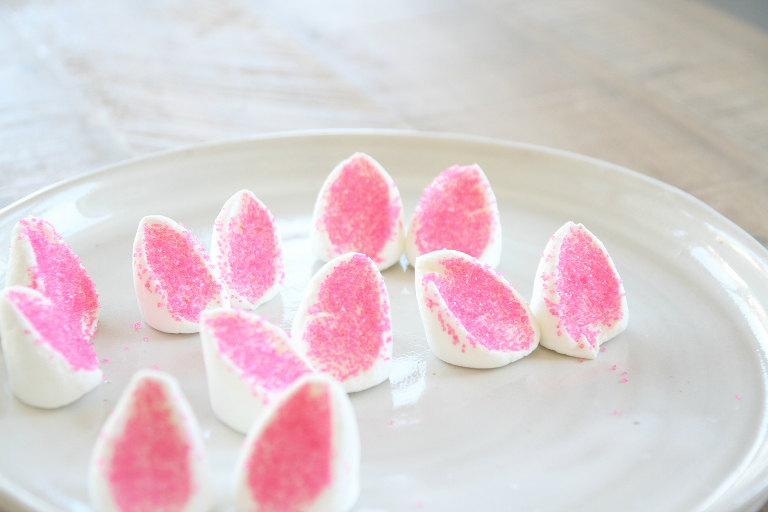 just hold the marshmallow by the flat ends and
snip the marshmallow diagonally
making a nice flat bottom
and pointed
tip
♥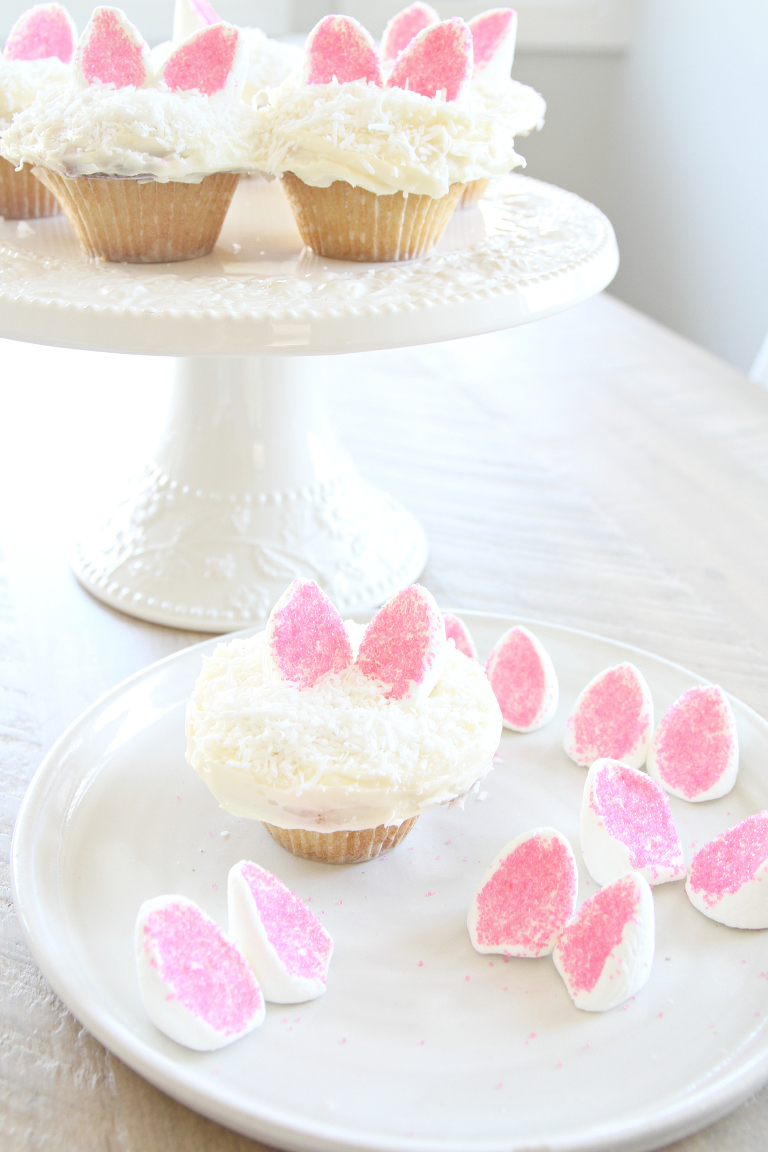 the sticky middle is perfect for
dipping
into
pink sugar
♥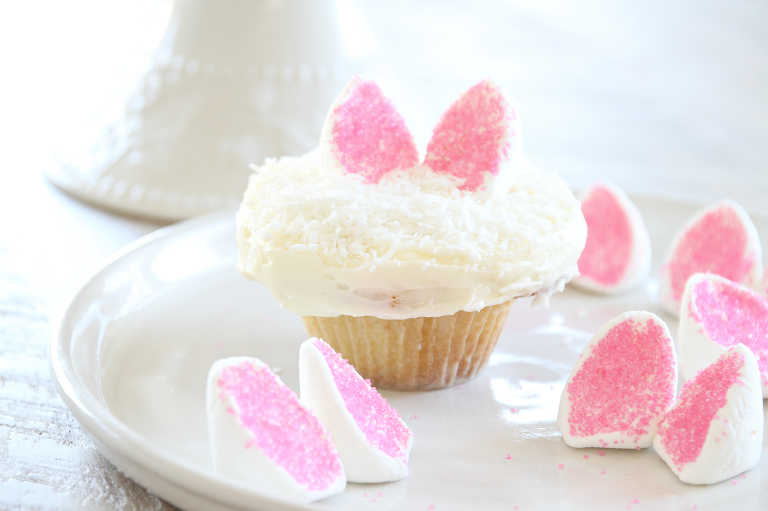 the coconut
sprinkled over
reminds me of
white bunny fur
or even
little Easter woolly lambs
♥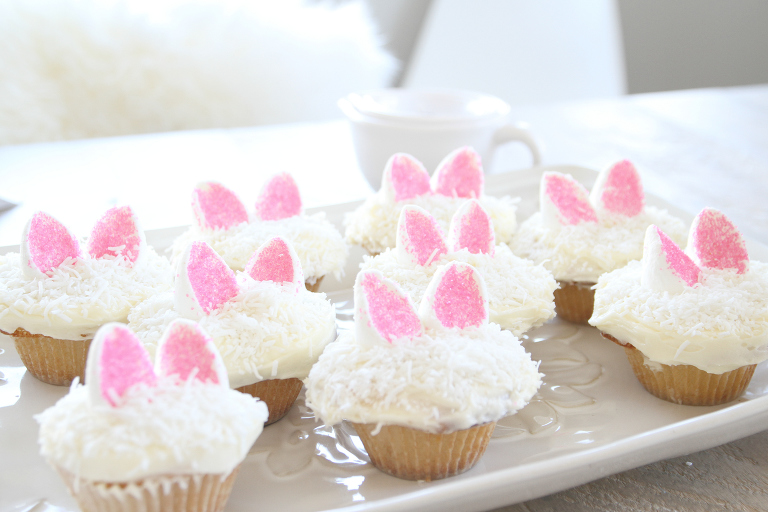 just make sure to buy
longer thread fancy sweetened coconut
♥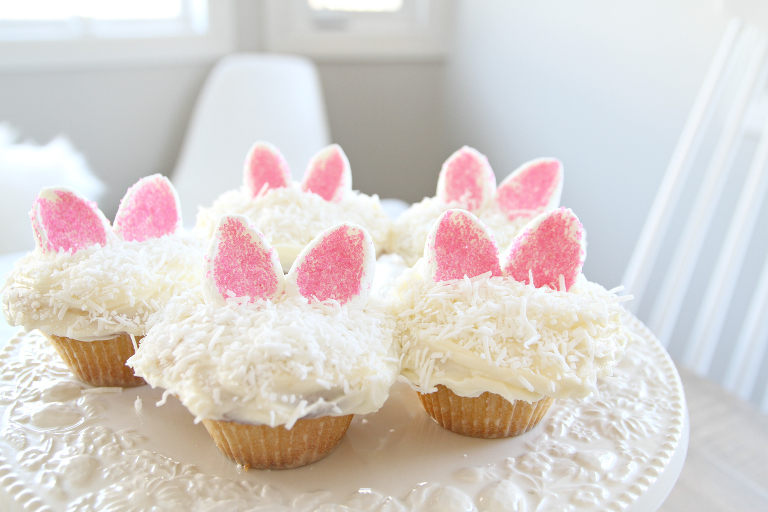 i combined two of my favorite recipes for this one
i didn't want to use a heavy cream cheese frosting
♥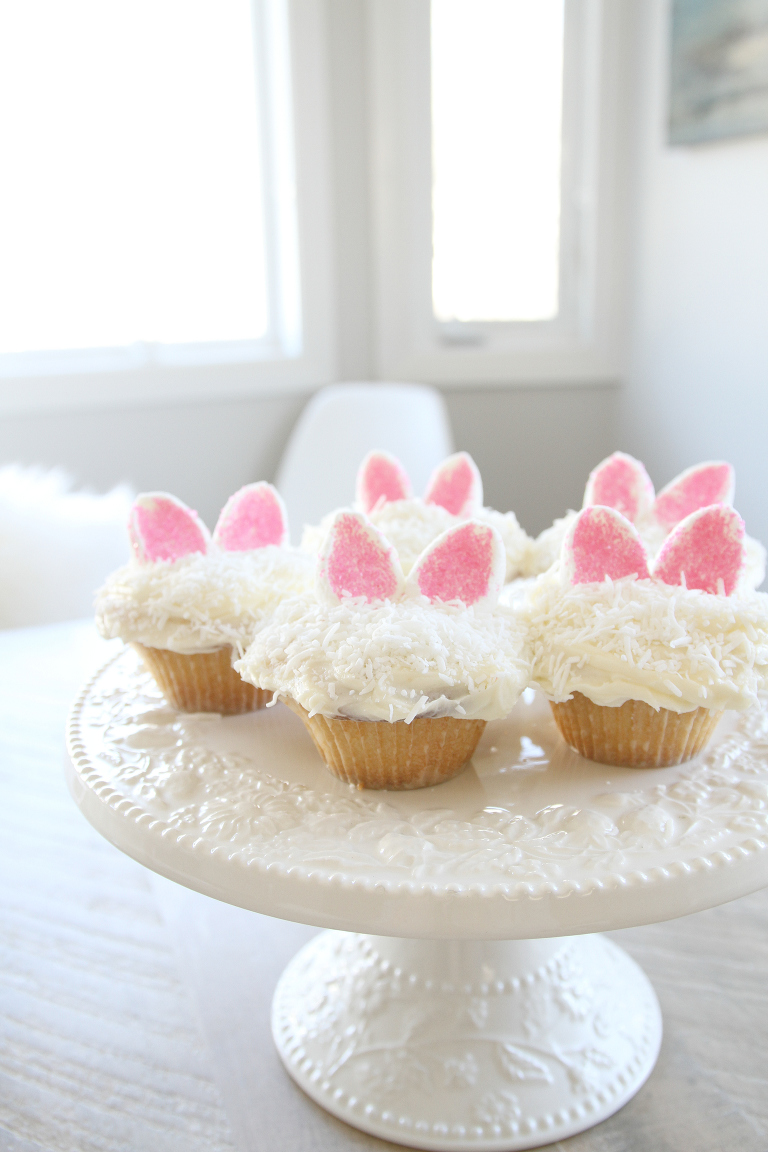 so these little cups of cakes
have a light crumb filled bite of coconut and are
topped
with a smearing of buttercream frosting
Happy Easter
♥
Happy Resurrection Day
♥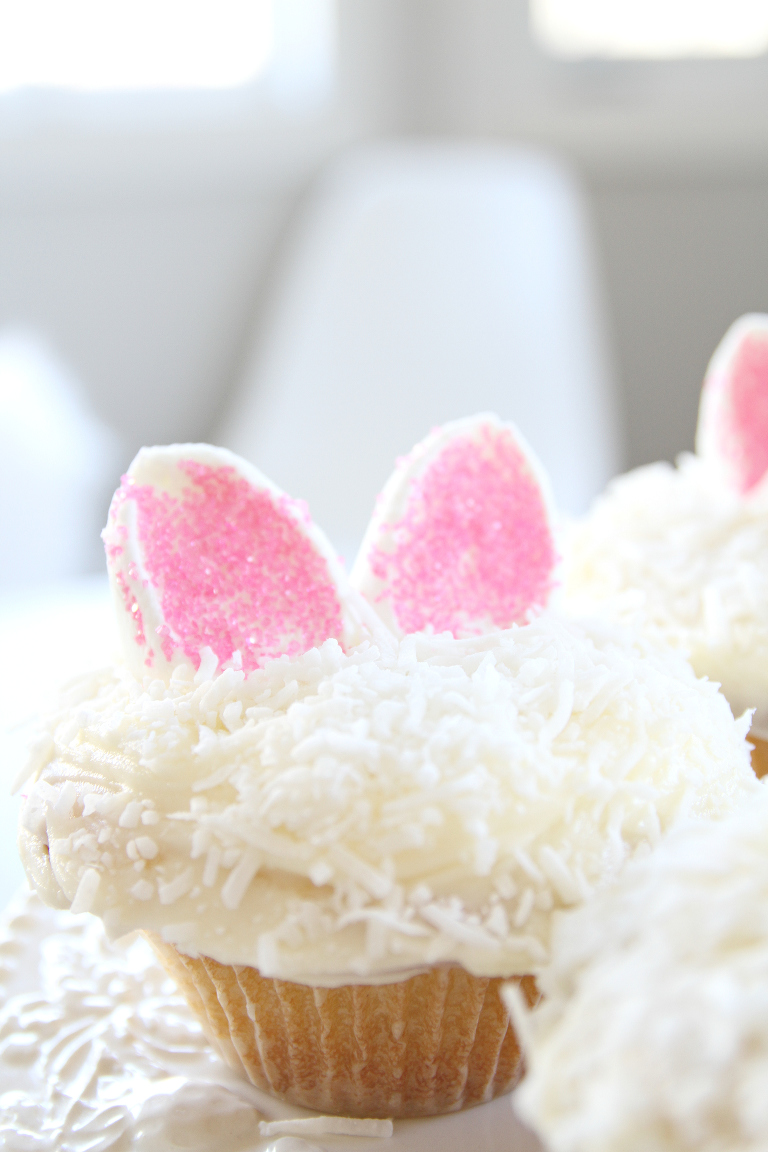 ♥
Coconut Cupcakes
Ingredients
marshmallows, regular size
pink sugar sprinkles
¾ pound unsalted butter (3 sticks or 1 ½ cups) at room temperature
2 cups sugar
5 extra large eggs at room temperature (or warm in a bowl of hot water for a few minutes)
1 ½ tsp pure vanilla extract
1 ½ tsp pure almond extract
3 cups all purpose flour
1 tsp baking powder
½ tsp baking soda
½ tsp salt
1 cup buttermilk
14 ounces sweetened, shredded coconut
Instructions
Cut each marshmallow diagonally. Dip the centers into the pink sugar sprinkles and set aside.
Preheat oven to 325 F.
In bowl of electric mixer (paddle attachment), cream butter and sugar together until light and fluffy (about 5 minutes). With mixer on low, add the eggs one at a time, scraping down sides of bowl with each addition. Add the vanilla and almond extracts and mix well.
In a separate bowl, sift together the flour, baking powder, baking soda, and salt. In three parts, alternately add the dry ingredients and the buttermilk to the batter, beginning and ending with the dry. Mix only until just combined! Carefully fold in 7 ounces only of coconut.
Line a muffin tin with cupcake papers. Fill each cup to the top with batter. Bake for 25 to 35 minutes or until a toothpick comes out clean. Allow to cool in the pan for 15 minutes. Remove to a baking rack and cool completely.
Frost with buttercream icing (recipe below) and nestle bunny ears on top.
Sprinkle with the remaining coconut.
Easter Bunny Buttercream Frosting
Ingredients
1 1/4 cup (2 1/2 sticks) butter, unsalted and at room temperature (not melted)
3 cups confectioner's powdered icing sugar (sifted)
1/4 tsp salt
1 tablespoon vanilla extract
2 tablespoons heavy cream (or milk)
*optional: up to 2 additional tablespoons heavy cream (or milk) and additional confectioner's sugar
Instructions
With the mixer fitted with a paddle attachment, beat the butter until it is light and fluffy, pale in color. This should take anywhere from 3-5 minutes.
Turn the mixer to low and gradually add 3 cups confectioner's sugar. Beat on low until it is incorporated, then turn the mixer to medium speed and mix well to blend.
Add vanilla extract, salt and heavy cream. Mix well for 3 minutes until frosting is light and fluffy.
Notes
I found this recipe worked to make the perfect consistency of icing, just as written. Measure carefully, but if your icing is too runny, add more confectioner's sugar. If it is too "stiff" add more cream, one tablespoon at a time.
Love,
Smidge