Karista's Roasted Pumpkin and Curried Shellfish Risotto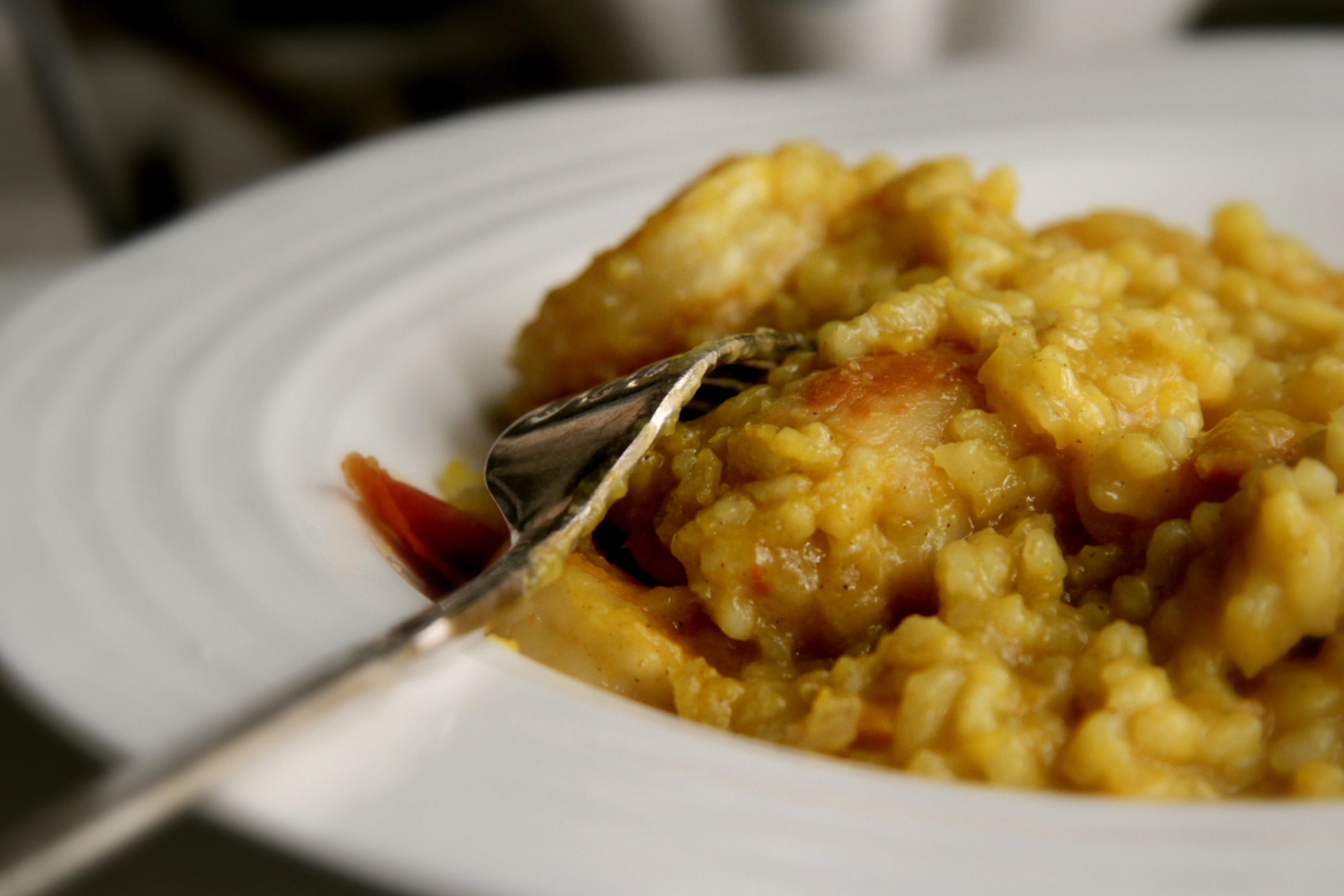 6 cups vegetable broth (3 Harvest Sun organic Vegetable Bouillon Cubes dissolved in 6 cups water)
2-3 tbsp butter
1/2-2/3 cup finely diced onion
2 cups Arborio rice
1 tsp ginger, minced
6-8 pinches Ayur Masala Curry Powder, to taste
2 tsp fresh coriander, ground
1 tsp cinnamon
1/8 tsp turmermic
1/2 cup white wine, plus 1 "glug"
2 cups roasted pumpkin puree
400 g sea scallops
200 g prawns (31/40)
Bring the boullion cubes and water to a simmer in a large saucepan. Keep warm.
Heat butter in a heavy saucepan or skillet over medium heat. Add the onions and saute until softened and lightly browned, about 2-3 minutes. Stir in the rice and coat in the onion and butter mixture, about one minute.
Stir in the spices, from the ginger to the turmeric. Stir in 1 cup warm broth and simmer until the liquid is absorbed by the rice. Add 1/2 cup warm broth, simmer until it is absorbed. Repeat, cooking over medium to medium-low heat, until all of the broth is used and the arborio rice is softened. I added a "glug" of white wine when my rice was still a bit uncooked after 25-35 minutes. I simmered for about 45 minutes.
Meanwhile, heat oil in a skillet and brown the scallops, then set aside. Rinse the prawns and set aside.
When the risotto has softened, stir in the pumpkin and the prawns. Simmer until the prawns have almost cooked, then add the scallops in. Continue to heat until all of the seafood is cooked and the risotto is heated through. Serve immediately.
Recipe by
Just a Smidgen
at http://justasmidgen.com/2012/10/18/karistas-roasted-pumpkin-risotto-eh/