Soupe aux Pois et Jambon { Green Split Pea Soup }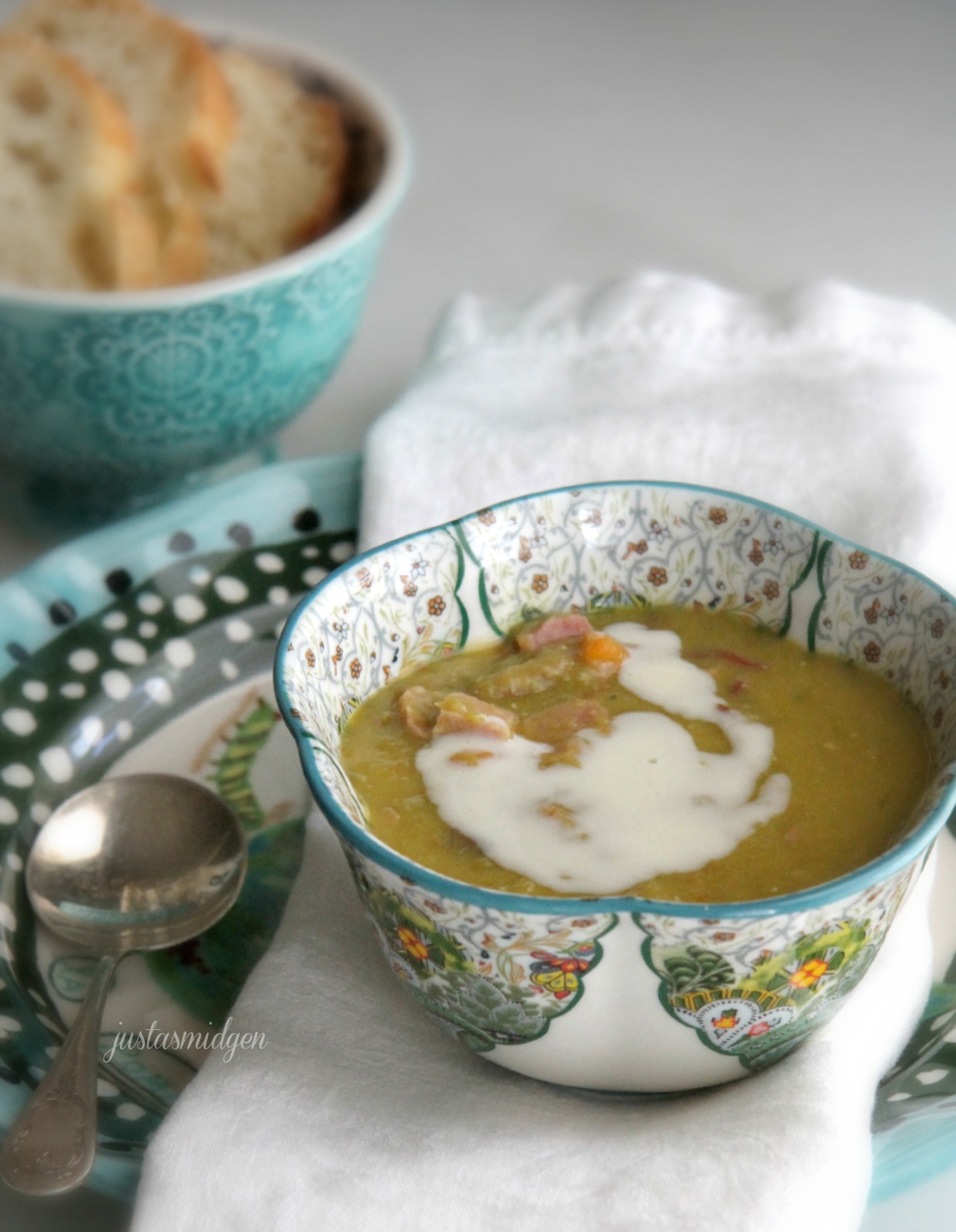 2 cups dried split green peas
olive oil
1 yellow onion, chopped
5 carrots, peeled and chopped
3 celery stalks, chopped
1 tsp salt
1/2 tsp pepper
1/2 tsp cloves
2 bay leaves
10 cups water
1 ham bone
leftover ham, diced (about 2 cups)
Creme Fraiche
Measure 2 cups of dried green peas into a large container and cover with water. Cover with plastic wrap and allow the peas to sit overnight to soften.
The next day, splash some olive oil in the bottom of a large soup pot. Add onion and lightly cook until the onion is translucent. Stir in the carrots and celery and sauté for an addition 5-8 minutes, just until the celery begins to soften. Season with salt, pepper and cloves. Cook for an additional 2 minutes.
Drain the two cups of peas into a colander and rinse with cold water.
Add 10 cups of water to the vegetables. Put the ham bone in and simmer for 90 minutes, until the peas are tender. If there is meat on the bone, remove and cut off the meat and add back into the soup. Add the diced leftover ham and continue to cook until the soup is hot and simmering, about 20 more minutes. Remove the bay leaves, taste and adjust seasoning.
Serve hot with a dollop of creme fraiche.
Recipe by
Just a Smidgen
at http://justasmidgen.com/2012/11/14/the-snowbird-hawthorne/