Cardamom Orange Zest Pansy Cookies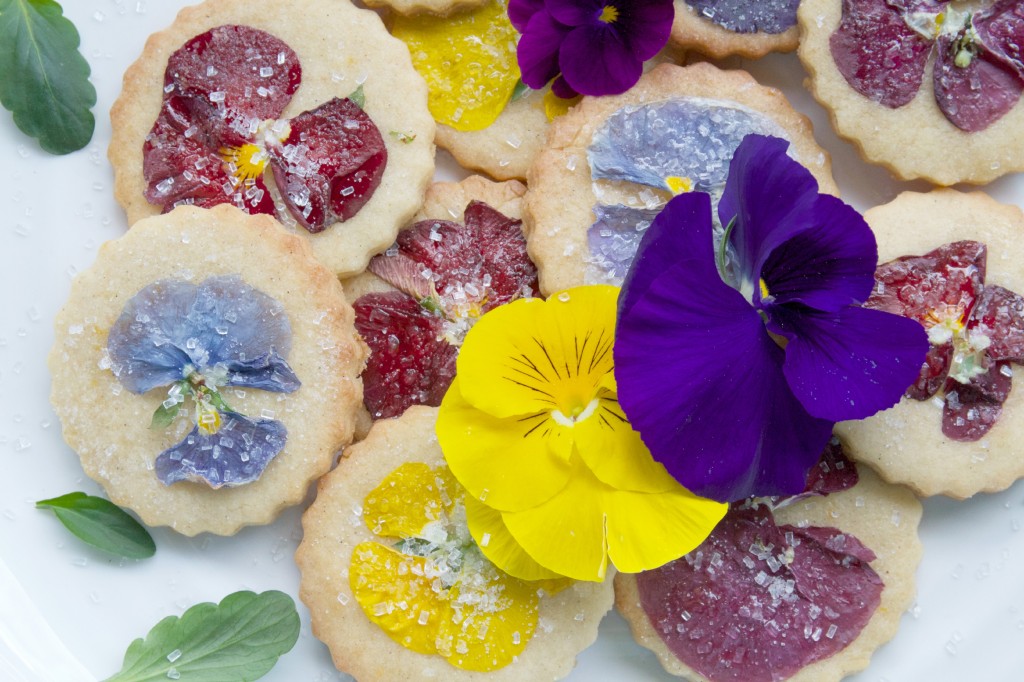 2 sticks of unsalted butter, softened (1/2 pound)
1-3/4 cups sugar
1/4 cup agave syrup (light)
Zest of 1/2 orange
1 tsp pure vanilla extract
1/2 vanilla bean (slice lengthwise and scrape out the seeds, discard the outer pod)
2 eggs, room temperature
4 cups all-purpose, unbleached flour
1/2 tsp salt
1-1/8 tsp baking powder
2 tsp ground cardamom
1 tbsp dried meringue powder (egg white powder)
2 tbsp water
Small paintbrush
Edible Pansies
Sugar
Optional: Coarse Sprinkling Sugar
Cookies
In a mixer fitted with a paddle attachment, whip the butter and sugar together until light and fluffy. Add the agave syrup and continue to mix until combined. Add the zest, vanilla extract and vanilla beans and mix on a low speed until incorporated. Add eggs, one at a time, mixing on low until blended.
In a large bowl, sift together the flour, salt, baking powder, and cardamom. With the mixer on low, add the dry ingredients gradually to the wet ingredients, scraping down the sides occasionally.
Divide the dough into 3 parts, flatten into disks, wrap in plastic wrap and refrigerate for at least 30 minutes. This makes the dough easier to roll out.
Once chilled, remove the dough and let it warm at room temperature, just long enough so that it can be rolled out on a lightly floured surface. Roll to the desired thickness of cookie, 3/16" will make a thicker, "sturdier" cookie. Cut dough with a 2 1/2" to 3" round cookie cutter. Place on a cookie sheet lined with a silpat liner or parchment paper. Refrigerate for another 30 minutes to firm up the dough again. *Do not skip this step, it helps the cookies to hold their shape when baking.
Preheat the oven to 350F. Bake for 8-10 minutes or until the edges are lightly browned. You may wish to rotate your cookie sheets half way through baking so all sides are evenly browned.
Move to a wire rack to cool completely.
Preheat oven to 325F.
Blend together the powder and water to make an egg wash. Brush the entire cookie top with the egg wash. Snip off the firm stem end of the cookie. Press the remaining petals of the flower onto the cookie, centering it. Brush more egg wash over top and press, gently smoothing the petals with your fingertips. Sprinkle with granulated sugar. Add a pinch of coarse Sprinkling Sugar if desired.
Bake for 1-3 minutes, watching carefully that the flowers do not over bake or dry out. Remove and smooth out any petals that have lifted, place on a wire rack and let cool completely.
Store in a single row in an air tight container.
Recipe by
Just a Smidgen
at http://justasmidgen.com/2013/07/26/cardamom-orange-zest-pansy-sugar-cookies-2/