Bella's Biscuits ~ Homemade Dog Treats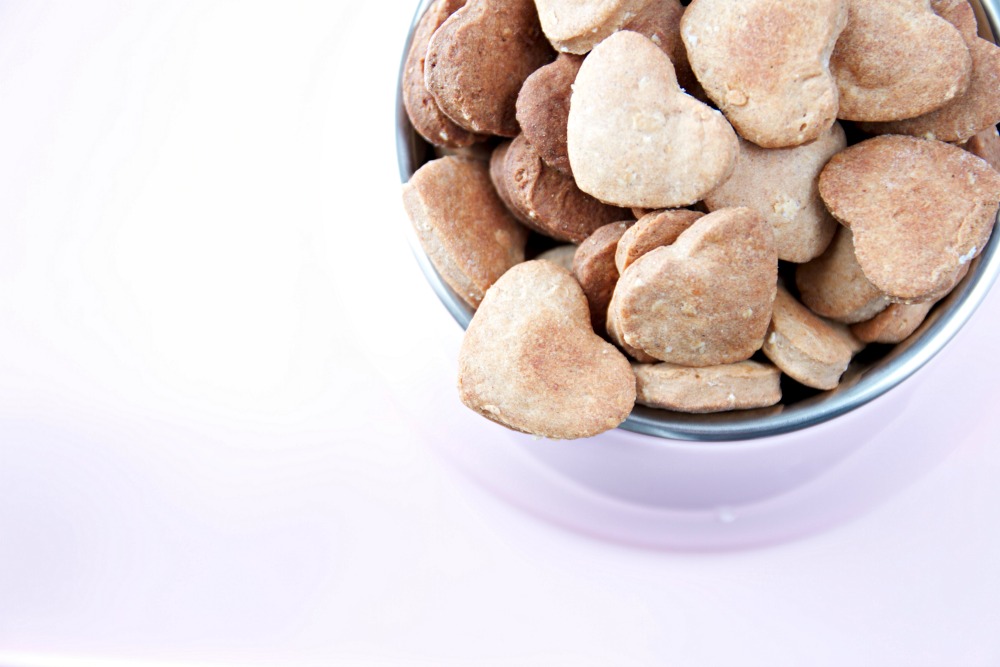 1/2 cup (180ml) warm water
3/4 teaspoon Liquid Chicken Bouillion
1 2/3 cup All-Purpose flour
1/3 cup Rye flour
2 Tablespoons brown sugar
1/3 cup (55g) oatmeal
1 Tablespoon cinnamon
1 egg, lightly whisked
1/2 cup smooth peanut butter
1/2 cup (104 ml) applesauce*
* I used one of those small single serving cups of applesauce, which is just under 1/2 cup.
Preheat the oven to 350F.
Prepare three baking sheets by lining them with parchment paper or silpat liners.
Stir the liquid chicken bouillon into the warm water and set aside.
In a mixer fitted with a dough hook, mix the two flours, brown sugar, oatmeal and cinnamon until blended together.
With the mixer on low, add the egg, then the peanut butter and the applesauce. Add just enough chicken broth, mixing until the dough comes together and clings to the dough hook. Mix for a few minutes more, then turn out onto a lightly floured surface.
Knead, sprinkling with very small handfuls of all-purpose flour as needed until the dough is soft, pliable but no longer sticky. Separate the dough into two or three pieces.
Roll out one piece of dough until it is quite thin, about 1/8 - 1/4" thick as these will puff up in the oven. Cut with cookie cutters and place on prepared baking sheets.
Bake in the oven for about 10-15 minutes or until the dog biscuits have lightly browned and somewhat hardened. Remove to a cooling rack where they will dry and harden further.
Store cooled biscuits in an airtight container. Some may be frozen then thawed out as needed.
Recipe by
Just a Smidgen
at http://justasmidgen.com/2014/01/25/bellas-biscuits-homemade-dog-treats/