Oven Roasted Heirloom Tomato and Red Pepper Soup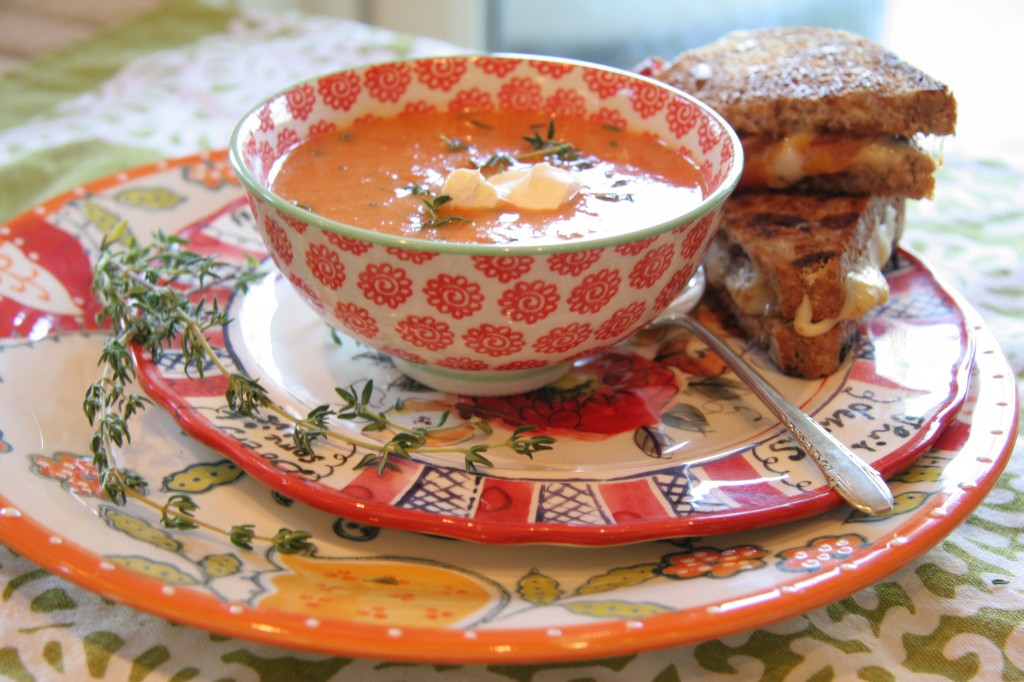 2 lbs fresh heirloom tomatoes (regular if you don't have heirloom)
1 large red pepper, seeded and chopped
4 shallots peeled and quartered
extra virgin olive oil
herbs to season: thyme, oregano, basil, herb de sel with herbs d'provence
2 cups chicken or vegetable stock
1/4 cup heavy cream
1 tsp smoked paprika
1/2 tsp celery seed
1/2 tsp dill weed
salt and freshly ground pepper
1/4 cup grated parmesan cheese
Preheat oven to 400°F.
Cut tomatoes into quarters (cherry tomatoes leave whole).
Spread tomatoes, chopped red pepper and shallots in an oven roaster. Drizzle with olive oil and season with herbs, salt and pepper. Gently toss and put in the oven.
Roast in oven for 30 -40 minutes or until tomatoes and peppers are browned and shallots have slightly caramelized. My tomatoes had lots of juice, so you may need to wait a while and the liquid will evaporate allowing the veggies to roast and lightly brown.
Remove from the oven and allow mixture to cool slightly. Spoon tomato, pepper and shallot mixture into a food processor and blend until smooth, adding 2 cups of stock as you go. If soup is too chunky for your liking, pour through a sieve to remove bits. (I didn't do this.) Add cream and remaining seasonings. Stir in grated parmesan cheese and allow to melt. Simmer to reheat. Adjust seasonings to taste.
Garnish each bowl with freshly ground pepper, a few small stems of fresh thyme, and a dollop (tsp) of Devon Cream.
Recipe by
Just a Smidgen
at http://justasmidgen.com/2011/09/22/google-it-oven-roasted-heirloom-tomato-and-red-pepper-soup-with-grown-up-grilled-cheese/