Sesame Garlic Chicken with Peanut Sauce and Sweet Coconut Rice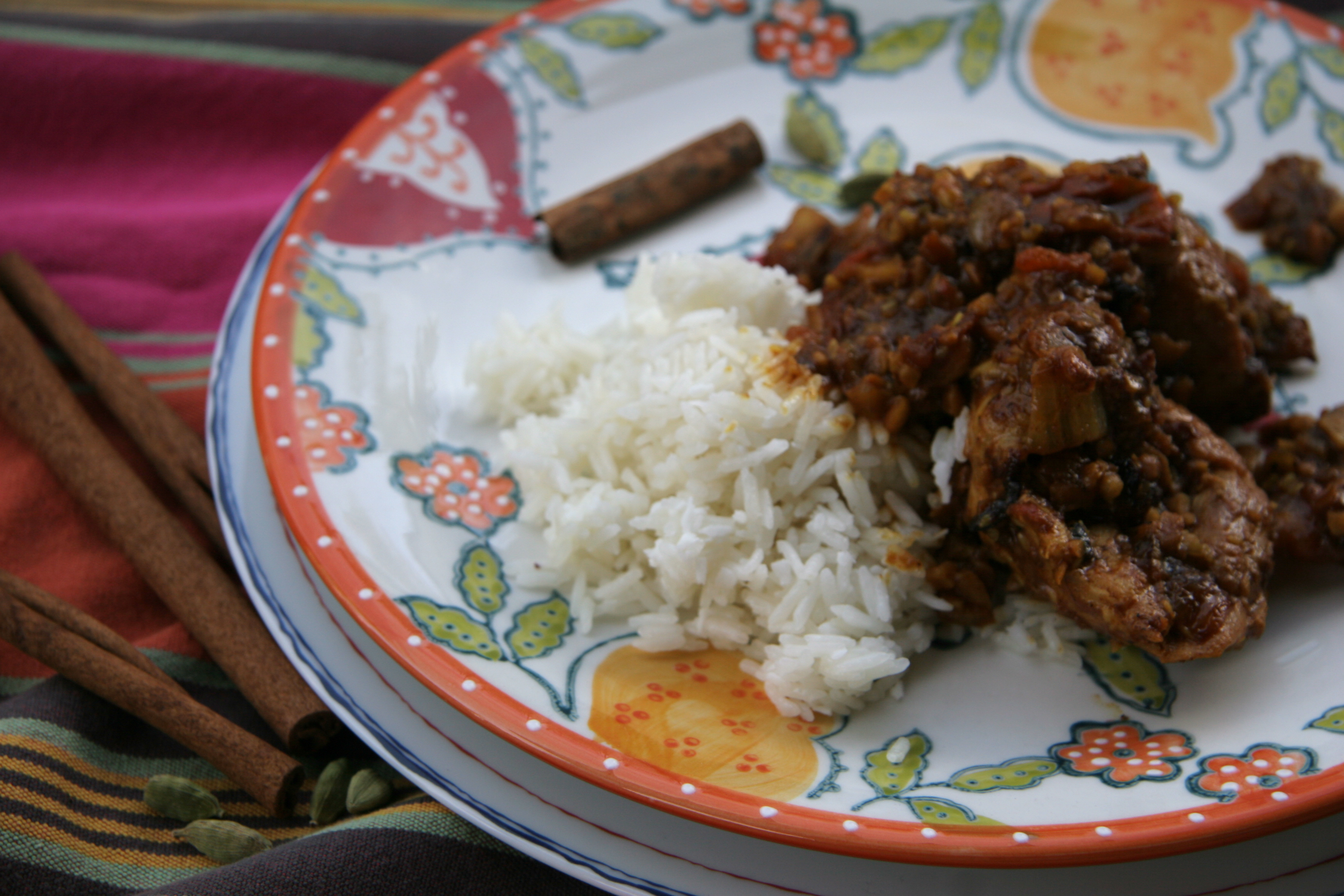 2 packages skinless, boneless chicken thighs (about 16)
2 tbsp olive oil (or canola)
1 large onion, chopped
1 tbsp sesame seeds
1 tbsp black freshly ground pepper
1 tsp ginger, minced
3 cloves garlic, minced
2 large or 3 smaller tomatoes, diced
1 tbsp ground coriander
1/2 tbsp ground cumin
1 tsp ground turmeric
3/4 tsp paprika
100 g baking peanuts (shelled, chopped)
1 tsp salt
2 tbsp green onions (garnish, optional)
Heat oil in a large frying pan, saute pan or wok.
Sear and brown the chicken thighs on all sides. Remove the chicken from the pan and set aside on paper towel.
In the same pan, fry the onion until it is softened and translucent.
Add the sesame seeds and allow to brown. Stir in pepper, ginger, garlic and allow to slightly brown.
Add tomatoes, coriander, cumin, turmeric, paprika, peanuts and salt. Bring to a simmer.
Add back the chicken thighs and simmer, covered for about 15-20 minutes or until the chicken is no longer pink inside.
If the sauce dries and the chicken starts to stick to the pan, splash with water or a dash of coconut milk to loosen.
Serve with coconut rice.
Recipe by
Just a Smidgen
at http://justasmidgen.com/2011/10/14/sesame-garlic-chicken-with-peanut-sauce-and-sweet-coconut-rice/